Jessica Hinkley – Founder of Nutrition Unearthed in Denver, Colorado
by Jessica Hinkley, Dietitian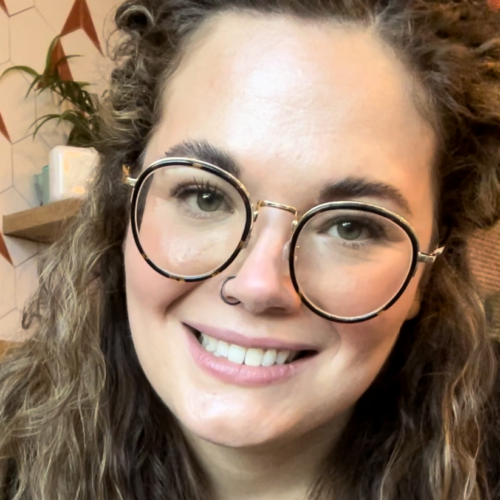 What's your business, and who are your customers?
I am the founder of Nutrition Unearthed in Denver, Colorado. I help people with arthritis and neuropathies manage their chronic pain so they can reclaim independence and strength.
My clients want to improve their energy levels, speed up meal planning and cooking, manage stress, and incorporate joyful movement into their lives. They're also seeking assistance with goal-setting, accountability, eliminating confusion about diet and wellness-related topics so they can feel confident in their ability to manage their chronic pain and illness.
Explain your experience and how you use it to help clients?
As a dietitian who lives with rheumatoid arthritis and unrelenting sciatica pain from a herniated disc, I understand first hand the struggles that come with having arthritis and neurological issues- from missing out on social engagements to overwhelming fatigue in the middle of the day, to difficulty eating, to feeling wholly reliant on others when it seems like my own body has betrayed me.
Therefore, I am passionate about helping people with similar issues and have created a 12-week-long program called The Pain Resilience Roadmap. This program helps patients to feel confident in their ability to manage their chronic pain and feel more comfortable in their own bodies. This program uses an intuitive eating approach to help patients manage pain using evidence-based diet therapies without overly-restricting their food choices for obscure reasons.
What areas do you practice in?
Arthritis, Neuropathy, Intuitive Eating, Plant-Based Diets
Tell us about yourself? 
I have a Bachelor of Arts degree in English Literature and Art History and a Bachelor of Science degree in Human Nutrition. Additionally, I am a certified personal trainer through the American Council on Exercise, a Certified Nutrition Support Clinician (for the management of tube feeding), and an experienced Lifestyle Coach for the CDC's National Diabetes Prevention Program. My diagnosis with rheumatoid arthritis was a major catalyst for me to return to school to study nutrition.
I have been a dietitian for over 5 years and have spent the majority of my career working with acutely ill patients in the Neurosciences specialty. For this reason, I am knowledgeable in the nutrition-related care of patients who have had strokes, traumatic brain injuries, aneurysms, brain tumors, infections of the nervous system, and so on. I also have very positive experiences working in the outpatient setting as a dietitian for three different Neurology clinics including an ALS and MDA clinic, a Huntington's disease clinic, and an adult Epilepsy clinic where I guide patients through implementing ketogenic diet therapies to manage their seizure activity.
What's your biggest accomplishment as a business owner?
My biggest accomplishment as a business owner thus far was mustering the courage to use what I have learned from my own struggles with arthritis and neuropathy to help others. Sometimes, it feels uncomfortable to openly discuss my personal health issues with strangers. However, I think it's important to share my story and expertise so I can help others with chronic pain get to a place of feeling comfortable in their own bodies as efficiently and pleasantly as possible.
What's the hardest thing that comes with being a business owner?
The hardest thing for me thus far was choosing a niche for my business. I am most passionate about intuitive eating and helping people with similar conditions as me. However, I still have a strong desire to help everyone in whatever way possible. A mentor finally helped me understand that my messaging and program need to speak directly to a particular group or else I would end up helping very few people. I have also noticed that there are few other dietitians in the outpatient and private practice settings who are helping people with neurological and arthritic conditions. Therefore, I have few peers to look to for guidance on my specific niche. But I have fully embraced the fact that I will be creating my own business path and helping an underserved group of people.
What are the top 3 tips you'd give to anyone looking to start, run, and grow a business today?
If you can hardly do anything but think about starting your own private practice, just go for it! You do not have to have everything figured before you start. It is 100% okay to take imperfect action so long as you are CONSISTENT with taking the actions necessary to start and grow your business.

Get a mentor. There are many free sources online to get you started. But a mentor will help you get from point A to B so much faster than if you try to learn everything on your own (just like dietitians do for their patients with implementing healthy habits)!

Create a business plan and make sure that it includes a detailed description of WHY you started your practice in the first place. Seriously, put considerable thought into this and write it down. Then you will always have this information to refer back to on days when you feel less motivated or confused about next steps for your business.
Is there anything else you'd like to share?
I am super happy to share that my arthritis pain is and has been well-controlled for quite some time now. Most of the time, I am able to participate in any activities or hobbies of my choice. I most enjoy powerlifting, going on long walks in the Denver area with my Red Heeler, reading, taking care of my numerous houseplants, cuddling with my cat, cooking, baking for my friends, visiting art galleries, doing puzzles with my best friend, trying new restaurants, and spending quality time with my partner.
Book with Jessica Hinkley Here.
Keep up with Jessica Hinkley on Social Media and follow her on Instagram, and  Facebook.
Learn more about here services on her  website.