Business Story: Andrea Holwegner, Registered Dietitian
by Dawid Furman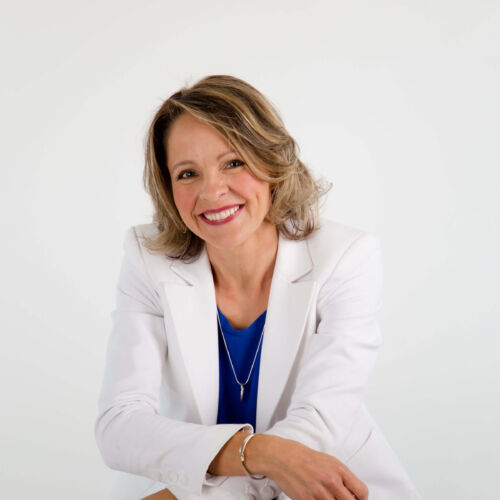 What's your business and who are your customers?
I run Health Stand Nutrition Consulting Inc which is a Calgary Dietitian team and online nutrition experts, our mission is to empower people to create a healthy and joyous relationship with food and their body. This means getting enough nerdy nutritious foods for health, but also saving room for foods chosen exclusively for taste and social fun (like nachos and dessert).
Our professional nutrition consulting practice was founded by Calgary Dietitian Andrea Holwegner in 2000. Since the beginning of time, our services and resources have always been grounded in science and practicality (no nonsense here). 
Our Calgary Dietitian team offers local and digital nutrition consulting services for both consumers and businesses:
– We are leaders in both in-person and virtual nutrition counselling for individuals, families, and employees at work.
– We offer professional speaking engagements, online learning, and workplace nutrition solutions for corporate wellness programs.
– As consulting experts for the food and grocery industry, we help to elevate the marketing initiatives, strategy, and innovation of healthy brands.
– We continue to create one-of-a-kind online courses and digital nutrition resources that solve the most common nutrition and health challenges for individuals and corporations.
You've come to the right place if you or your organization wants to learn how to eat better and still have a life. Take the die out of the diet. You will find food freedom here with us.
Explain your experience and how you use it to help clients.  
At Health Stand Nutrition Consulting Inc. you will experience a new level of care, integrity, and professionalism. When it comes to learning about healthy eating with plenty of choices, compassion, and clear direction, we've got you covered. We pride ourselves on collaboration and helping you build the same balanced lifestyle we embrace (that includes your favorite foods chosen for taste and enjoyment). We nourish self-love. Eating well isn't always easy, and since you are not a robot, you'll never expect perfection. We will remind you that the best recipe for success is kind compassion.
As the most established Registered Dietitian practice in Canada, we have pioneered the industry since the year 2000. Our team has over 100 years of collective experience. As university-trained Registered Dietitians (the only regulated and licensed health professionals in the nutrition field), we are held to the highest level of ethical standards of practice. You can count on us for credible science-based advice wrapped with genuine care and concern for your well-being. You won't find any gimmicks, fad diets, or unnecessary food restrictions here. We take a no-nonsense approach to eat well with practical tips for real people with busy schedules.
Since our head office is located in Calgary, Alberta, Canada we naturally have a Registered Dietitian Calgary team. We also have remote team members throughout Canada in a variety of locations since we serve a global online community for virtual nutrition counselling in Canada, the United States, and global territories. We have Registered Dietitians and Online Nutritionists that speak not only English but also French, Spanish, Cantonese, and Mandarin. This is also a place where LGBTQIA2S+ and their friends and allies are welcomed and supported.
What areas do you practice in?
Allergies and Intolerance, Diabetes and Blood Sugar Concerns, Digestive Health, Eating Disorders & Disordered Eating, Emotional Eating, Heart Health, Intuitive Eating, Kidney Disease, Mental Health, Mindful Eating, Older Adult Nutrition, Oncology, PCOS, Pediatrics, Pregnancy and Breastfeeding, Sports Nutrition, Vegan and Vegetarian, Weight Loss, Weight-Inclusive, Other.
Tell us about yourself. For example, what first got you started working on your business, and what motivates you each day to do what you do?
When you are on a mission to make a difference but don't like any of the job options available in public health, naturally you decide you must create your own opportunity. I founded Health Stand Nutrition Consulting Inc. in 2000 straight out of university when dietitians didn't work much in private practice.
I was a broke student and had moved back into my parents' home. I remember borrowing their car to see my first clients and spending long hours like many entrepreneurs trying to figure out your systems and where you could provide the most impact to grow. But I was passionate about the role of nutrition in fundamentally shifting health.
I'd watched my grandparents pass away with health issues and my dad struggle with advanced cardiovascular issues at a very young age. Nutrition played a role in all of these situations and since I had always loved science, I became fascinated with understanding how and why what we eat impacts wellness.
I had also grown up in a home where my mom cooked yummy family meals and taught me the way around the kitchen. While others in the university were partying, my best friend and I (who was also a foodie) were making homemade noodles and other geeky things in the kitchen. I have fond memories of long strands of noodles draped across bed sheets drying in our little apartment.
It was from this passion of marrying my love of food and natural curiosity for nutritional science that my business was born. I am hugely grateful for the talented team of Dietitians I work with every day and the impact we make that changes lives for the better.
What's your biggest accomplishment as a business owner?
My biggest accomplishment as a business owner has been building a team of like-minded Dietitians that work together in the Health Stand Nutrition Consulting Inc. a "family" of Dietitians. I adore the people I work with and have a huge sense of pride in watching our team grow since as the team grows I know we are impacting more lives. As we grow it means we are offering more credible and life-changing advice for the clients we serve in their personal lives as well as in the workplaces of the companies we serve.
What's one of the hardest things that come with being a business owner?
One of the hardest things for any business owner is narrowing down your focus and taking action on only a few things you know will be important for growth. It is easy to get distracted and try to do too many things. The art of staying focused on key habits and key goals leads to growth in any aspect of life, health, and certainly in business.
What are the top 3 tips you'd give to anyone looking to start, run and grow a business today?
The top 3 tips I have for anyone looking to start, run and grow a business today is first to ideally start with something you are passionate about or that you can create to provide impact positively with the revenue you are generating. This sure helps pull you through the tough times in business when you have a bigger goal outside of yourself.

.Secondly, develop a team of advisors that can help you with the skills you will need to move you forward as you simply can't be an expert in all aspects of the business. 

 Lastly, you need to look at failures as learning opportunities for growth. I like to call this "Failing Forward" – if you are not failing you are not growing.
Is there anything else you'd like to share?
Here is a little about our philosophy at Health Stand Nutrition Consulting Inc.: 
Eat Fully with Your Left + Right Brain. The human brain is divided into two broad hemispheres. The left brain is responsible for logic, science, math, patterns, and analytical tasks. The right brain is responsible for feeling, creativity, art, imagination, taste, and intuition. We think of eating fully by using both parts of our brains. Our left analytical brain can be leveraged to help you build habits to eat healthfully (get enough nerdy nutritious foods for health). Our right creative brain can guide you to eat soulfully (with taste, intuition, joy, and flexibility in your eating choices).
Overall, our goal is to empower you to create a healthy and joyous relationship with food and your body. No extremely clean eating regimes here, only balanced living you can sustain for life.
Live Fully!
#BalancedNotClean.
For more advice on balanced living join our free weekly newsletter that goes out to thousands of people each week given the rich content, media videos, and recipes our Dietitian team creates:  https://www.healthstandnutrition.com/newsletter/.
Company name: Health Stand Nutrition Consulting Inc.
Location: Calgary, Alberta, Canada & Virtual Throughout Canada
Find your Dietitian on Dietitian Directory.  Are you a Dietitian, would you like a biography on Dietitian Directory, please contact us. Interested in keeping up with Dietitians across North America, please follow us on instagram.