Business Story: Stephanie Hnatiuk, Registered Dietitian
by Dawid Furman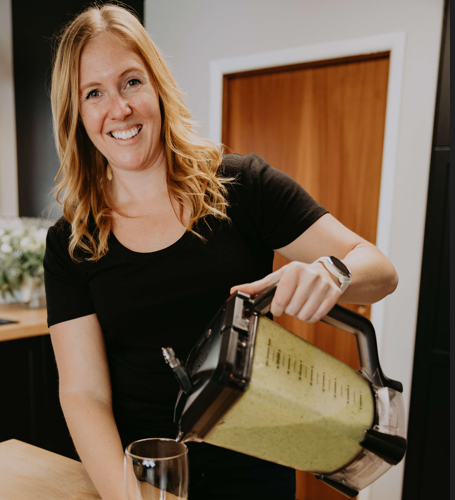 What's your business and who are your customers?
I am a Registered Dietitian and I'm the owner of Stephanie Hnatiuk Performance Nutrition based out of Winnipeg, Manitoba. I help runners reconnect with their love of running by teaching them the right nutrition and training strategies they need to improve their performance, optimize their body composition, and heal their relationship with food and exercise.
Explain your experience and how you use it to help clients.  
I am both a Dietitian and Certified Personal Trainer who specializes in running and have been in business for over 10 years helping people find balance in their eating and exercise habits to get better results. I've created a unique 3-step framework called Fuel Train Recover which outlines exactly how my clients get the results they want. 
What areas do you practice in?
Allergies and Intolerance, Diabetes and Blood Sugar Concerns, Digestive Health, Eating Disorders & Disordered Eating, Emotional Eating, Heart Health, Intuitive Eating, Mindful Eating, PCOS, Services for RD's, Sports Nutrition, Vegan and Vegetarian, Weight Loss, Weight-Inclusive.
Tell us about yourself. For example, what first got you started working on your business, and what motivates you each day to do what you do?
I started working for myself as a personal trainer while I was still completing my undergrad degree, so I've been a business owner since day one! I've always had a passion for combining nutrition with fitness, and since jobs in this particular niche are nearly impossible to find, starting my own business was almost a necessity. 
I love working with runners because there is so much potential in nutrition and helping people heal their food and exercise relationships. Helping runners get out of the 'eat less and move more mindset and actually seeing tangible improvements in their running performance at the same time is an amazing thing to be able to do.
What's your biggest accomplishment as a business owner?
Some of the media opportunities I've had have been very exciting. From podcast episodes to national news segments to articles for Nike, Livestrong, and Canadian Running Magazine, it's always so cool to be seen as an expert and be given these types of platforms to contribute to.
What's one of the hardest things that comes with being a business owner?
It's very difficult to separate 'you' from your business when it's something you built from the group up and have poured your heart and soul into. This means owning a business can be a very emotional journey! It's hard to not take things personally, compare yourself to others, or give yourself a mental break from all the things that go into being an owner.
What are the top 3 tips you'd give to anyone looking to start, run and grow a business today?
Block off time each week for working ON your business, not just in it. If you want to grow and develop and improve you need space in your schedule to work on these tasks. If you fill up every minute of your week with clients or contract work you'll never have the time you need to level up. 

 Don't be afraid to invest and spend money on your business- but do it wisely. Set aside a portion of your revenue for business operations and reinvest this money into running and growing your business. And pay yourself too! (I like Profit First and use this strategy for my business finances) 

Don't get intimidated by others who are already running successful businesses in your ideal niche area. If others are successful it means there's a great market for what you want to do and plenty of clients for everyone. But, don't just copy others. Create your own method, framework, or program that is uniquely yours and you'll attract the perfect clients that are the right fit for you.
Company name: Stephanie Hnatiuk Performance Nutrition
Location: Winnipeg, MB, Canada
Find your Dietitian on Dietitian Directory.  Are you a Dietitian, would you like a biography on Dietitian Directory, please contact us. Interested in keeping up with Dietitians across North America, please follow us on instagram.