Business Story: Ruth Anne Crowle, Registered Dietitian
by Dawid Furman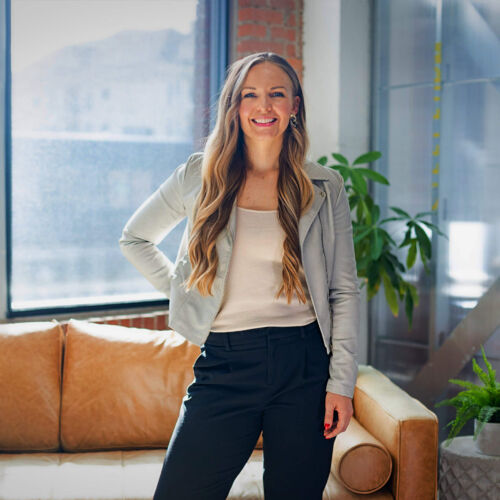 What's your business and who are your customers?
I am a Registered Dietitian and run Compass Nutrition where I help ambitious professionals prevent and recover from burnout so they can pursue audacious goals and enjoy life again. There's nothing worse than having big dreams and goals but not having the energy to pursue them. I know my clients are busy and constantly on the go so all my services are offered virtually. I support my clients through one-on-one programs, courses, and group programs.
Explain your experience and how you use it to help clients.  
Through my experience working with adults over the past 6 years, I began to notice a strong relationship between stress, mental health, nutrition, and lifestyle. This is why I use an integrated lifestyle approach with my clients, looking at all aspects that may be affecting their health concerns. I use targeted strategies with lifestyle and nutrition to empower my clients to take back control of their health. My primary goal for clients is to get them to a place of healing rather than just symptom management by addressing the root cause.
What areas do you practice in?
Eating Disorders & Disordered Eating, Emotional Eating, Ketogenic and Low Carbohydrate Diet, Mental Health, Mindful Eating, Vegan and Vegetarian, Weight Loss.
Tell us about yourself. For example, what first got you started working on your business, and what motivates you each day to do what you do?
The brain, nervous system, and mind-body connection are endlessly fascinating to me! Learning new information about how we can improve this area of our health motivates me to share it with others. We all have unique gifts and talents to offer but health challenges can be a huge barrier for many. I view my role as someone who can help remove that barrier so people can feel more energized to explore these gifts and enjoy life! This is the ultimate motivation.
What's your biggest accomplishment as a business owner?
Bridging the gap between mental health and nutrition in the Dietitian field. There are many struggling with their mental health and nutrition plays a big role! I've also launched an online course and group program this year to reach a wider audience.
What's one of the hardest things that comes with being a business owner?
Maintaining your mindset. There is a lot more unpredictability in owning a business vs working for someone. It's important to maintain a positive mindset and surround yourself with people who have walked the path before you!
What are the top 3 tips you'd give to anyone looking to start, run and grow a business today?
 Adopt a growth mindset. Working for an employer and running a business are two completely different games with different rules. Don't try to fit a square peg into a round hole. 

 Focus on solving problems for your clients rather than making a pretty website. This is why people will pay you and refer to you. 

Be yourself! You don't need to be anyone other than yourself. Authenticity builds trust with your clients and potential clients.
Company name: Compass Nutrition
Location: Calgary, AB, Canada
Find your Dietitian on Dietitian Directory.  Are you a Dietitian, would you like a biography on Dietitian Directory, please contact us. Interested in keeping up with Dietitians across North America, please follow us on instagram.