Business Story, Marilee Pumple, Registered Dietitian
by Dawid Furman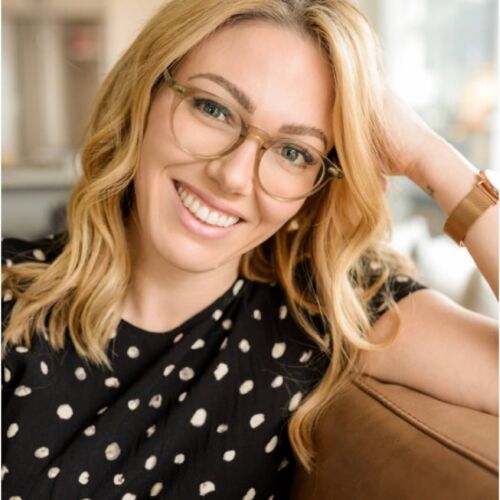 What's your business and who are your customers?
Little Spuds Nutrition is an inclusive nutrition counseling business that supports individuals and families to create fundamental food skills and improve their relationships with food. Evidence states that these food skills are essential at protecting against the development of disordered eating and body image dissatisfaction as well as prevention against chronic disease. 
Our business primarily supports families with feeding and eating issues as well as folks of all ages working on eating disorder recovery across British Columbia. Additionally, we liaise and collaborate with community eating disorder programs and their respective clinicians.
Explain your experience and how you use it to help clients.
I started out covering inpatient mental health and eating disorders where I firsthand saw how nutrition can rehabilitate a person experiencing severe malnutrition related to an eating disorder. This later inspired me to pursue an eating disorder position in a rural community where I learned the disparities in eating disorder services depending on where you lived. My work inspired me to start working privately to support clients with eating disorders across the province. Later I started working in a specialized outpatient eating disorders program where I still work today in addition to my business. This has honed my skills in supporting clients of all ages with all types of eating disorders in varying stages of recovery.
During the pandemic, we saw an exponential rise in eating disorders among young people which pushed me to become more active in prevention. Little Spuds Nutrition was born out of combining my expertise in eating disorder recovery with my business partner Lawren Fisher's expertise in pediatric nutrition. Our goal is to start kids as early as possible to build resiliency and have good relationships with food to prevent against the development of disordered eating. 
My consulting and advocacy work includes addressing service disparities in eating disorder treatment across the province.
Tell us about yourself. For example, what first got you started working on your business, and what motivates you each day to do what you do?
I love working with folks with eating disorders as it is incredibly collaborative and empowering work.

When a client starts to trust their body again and learn that their body isn't against them it's a wonderful experience to witness and support. I want every person to know that their body is not wrong no matter what the size, that they are deserving of food free from shame and that food is not inherently bad and can be enjoyable – especially young people. Until the world accepts that, I will be working hard to push that message in our business.
What's your biggest accomplishment as a business owner?
From a personal perspective, my greatest accomplishment is achieving client success and growing my business to support more clients in this capacity. Supporting clients to achieve recovery from an eating disorder and get back to an enjoyable life is why I do my job. We just expanded our business to include two more dietitians to support more clients after one year of operation.
What's one of the hardest things that come with being a business owner?
Personally, I always struggle with the mental aspect of not being able to support all clients who need my help due to capacity or affordability in private practice. From a logistical standpoint, the non-client work is not my passion so any back-end accounting work is not the fun part that's for sure!
What is your top tip you'd give to anyone looking to start, run and grow a business today?
Just start, don't wait, don't overthink it, just do it.

I used to think I needed an MBA to be qualified to run a business but that was my way of protecting myself from the discomfort around the risk of failure. Once I dove in I figured it out. If as dietitians, we can get through university, internship, and work with so many client populations- we have the skills to figure out payroll and make a website.
What areas do you specialize in?
Eating Disorders & Disordered Eating, Intuitive Eating, Pediatrics, Weight-Inclusive.
Company name: Little Spuds Nutrition
Location:
Victoria, BC, Canada
Find your Dietitian on Dietitian Directory.  Are you a Dietitian, would you like a biography on Dietitian Directory, please contact us.  Interested in keeping up with Dietitians across North America, please follow us on instagram.