Business Story: Julia Liber, Registered Dietitian
by Dawid Furman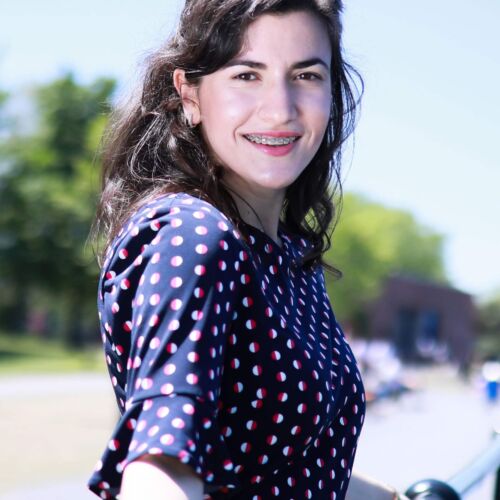 What's your business and who are your customers?
I am a Registered Dietitian and I run an online nutrition consulting business. I meet with my clients one-on-one, teaching, guiding, and helping them achieve their nutrition goals.
I mainly help adults develop healthy eating habits while developing a healthy relationship with food. I also work a lot with clients looking for nutrition for chronic disease prevention and management, such as diabetes, high blood pressure, and high cholesterol.
I help other clients as well, such as hypothyroidism and more!
Explain your experience and how you use it to help clients.  
Body image issues are all too common. As a teenager in High School, some of the people around me developed eating disorders. I was going through my own challenges regarding my body image and being comfortable in my skin. From experience, there is a lot of pressure on teenage girls to be thin and reach the "ideal body type". I managed to heal my relationship with food and improve my body image, and I am currently working with many clients who are having similar struggles. Having been through this myself, this can help me greater understand my clients, yet every client's experience is different and unique.
What areas do you practice in?
Diabetes and Blood Sugar Concerns, Emotional Eating, Heart Health, Intuitive Eating, Mindful Eating, PCOS, Pediatrics,  Vegan and Vegetarian, Weight-Inclusive
Tell us about yourself. For example, what first got you started working on your business, and what motivates you each day to do what you do?
My dreams and aspirations as a professional were to have a great impact on people's nutrition and well-being while at the same time being my own boss. I started working on my business at the start of the pandemic when more and more people were struggling with their nutrition and morale. As in-person visits were becoming less and less accessible, I opened my virtual clinic so that people were able to get the help and support they needed, despite the COVID closures.
One of my greatest motivators is seeing the impact I've had on my clients' lives. I've had numerous clients who have successfully modified their lifestyle habits and improved their relationships with food. When I see how much progress my clients are making while working with me, it reminds me of why I chose to do what I do.
What's your biggest accomplishment as a business owner?
As a business owner, my biggest accomplishment was transitioning my business from a side hustle to a full-time gig. Another major accomplishment was seeing how much I've learned since starting my business. As a business owner, I have acquired a large skillset: from marketing to technology, customer service, building a website, and much more!
What's one of the hardest things that comes with being a business owner?
Without a doubt, the biggest challenge of being a business owner is time management. Unlike working a 9-5, your job never ends. There is always more to be done: from mundane tasks to finishing your paperwork and responding to emails to projects such as keeping your social media updated, blogging, business strategy, and so much more!
What are the top 3 tips you'd give to anyone looking to start, run and grow a business today?
Do what you love! Entrepreneurship is hard work, so doing what you love will feel rewarding rather than burdensome.

Start small and specific! When starting a business, this is a long-term project! So don't feel the need to get every aspect of your business kickstarted in the first two months! Start with the most basic components, and slowly build them up as you grow.
Have some thick skin! You won't necessarily see growth right away. You may come across rude customers, which can leave you feeling uneasy. Not every day will be easy. Be prepared for some rough days. But even during those rough days, remember why you decided to start your business and take the challenges you encounter as learning opportunities rather than reasons to quit.
Is there anything else you'd like to share?
Have fun with it! As a solo entrepreneur, my business represents my core values, from the way I approach my clients to the content and colors on my website. My business represents me as a professional, I enjoy what I do every day, and I find it easy and natural to connect to my clients.
Julia Liber, RD
Location: Montreal, Quebec, Canada
Find your Dietitian on Dietitian Directory.  Are you a Dietitian, would you like a biography on Dietitian Directory, please contact us. Interested in keeping up with Dietitians across North America, please follow us on instagram.