Business Story: Nicole Marchand, Registered Dietitian and Nutritional Medicine Practitioner
by Lindsey McGregor, RD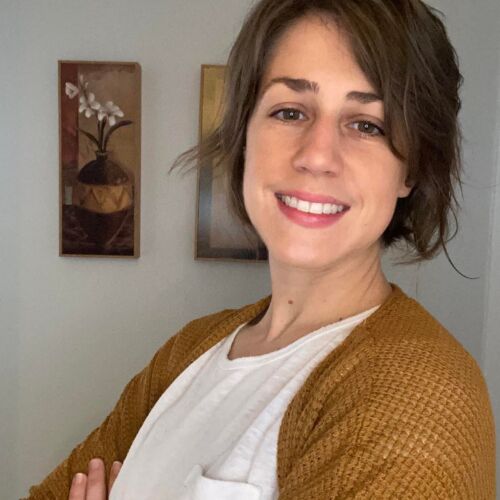 Hi! I'm Nicole Marchand, a Registered Dietitian and Nutrition/Lifestyle Medicine Practitioner – I focus on the prevention, management and treatment of chronic and lifestyle diseases including gastrointestinal diseases, Type 2 Diabetes, autoimmune diseases, metabolic diseases and allergies/sensitivities. I run step-by-step programs based on the root cause of the health concerns and on the needs of the client. I strongly believe that we can improve our quality of life through tailored dietary and lifestyle changes and based on the goals of the clients, chronic diseases can be prevented, managed or even treated with the right approach to improved wellness.
Explain your experience as a Registered Dietitian and how you use it to help clients.
I've been an RD for 10 years and have created programs around the treatment of chronic diseases over the course of this time using the latest research available on each topic. As research changes, the steps and resources in each of the programs are updated as well. One area I am particularly interested in is GI concerns from IBS to GERD, SIBO, IBD, gastritis as these complicated digestive issues plague roughly 75% of our population and in many cases can be prevented and treated or at least well-managed through diet and lifestyle. 
Explain what sets you apart as a Registered Dietitian.
What sets me apart is my unique approach to GI concerns and chronic disease. Using a combination of diet, supplementation, herbal remedies and lifestyle changes in a step-by-step format can vastly improve one's quality of life and either treat or help manage ailments that some people have been living with for as long as decades. While I strongly believe that we can prevent lifestyle and most chronic diseases, I also believe that they can be treated or that symptoms can be vastly improved using a holistic lifestyle approach.
Practice Areas: 
Allergies & Intolerances, Diabetes, Digestive Health, Heart Health, Ketogenic & Low Carbohydrate, Mental Health, PCOS, Sports Nutrition, Vegan & Vegetarian, Weight Loss
Find your Dietitian on Dietitian Directory.  Are you a Dietitian, would you like a biography on Dietitian Directory, please contact us. Interested in keeping up with Dietitians across North America, please follow us on instagram.