Business Story: Karyn Sunohara, RD and Chef 
by Lindsey McGregor, RD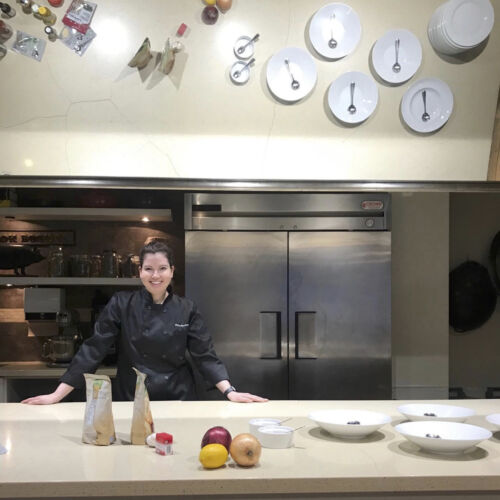 Karyn's love for food led her to culinary school where she was immersed in both food and culture. She spent endless hours in the kitchens at SAIT trying to absorb and learn everything she could from my amazing Chef mentors and instructors. Karyn graduated top of her class from the Professional Cooking Program at SAIT in the spring of 2008, but she felt a piece of her career was missing; it didn't feel complete yet. After graduating, Karyn worked at numerous restaurants, culinary institutions, and held a number of cooking positions. Karyn still had a love and passion for food and culture, but I wanted more. This led Karyn down the path of Nutrition and dietetics. This was the perfect pairing as it melded her two loves together into one fabulous career. 
Karyn practices in Family Nutrition and Paediatrics. She currently supports clients in the following areas:
Infant Nutrition (Introduction of Solids, Constipation, Diarrhea, Failure to Thrive), Picky Eating, Taste and Texture Challenges, Food Allergies and Intolerances Including Oral Allergy Syndrome, FPIES, and FPIAP, Gut Health- Celiac Disease, IBS, IBD (Crohn's and Colitis), Diverticulitis, Reflux, Autism Spectrum Disorder, Food Relationship Including Eating Disorders and Disordered Eating"
Explain your experience as a Registered Dietitian and how you use it to help clients.
While finishing up my professional cooking diploma I was blessed to meet Mary-Sue Waisman, a Registered Dietitian and Chef.  Mary-Sue introduced me to the career of a Registered Dietitian, and looking back now, meeting her changed my life! I found a path where I could combine all of my passions into one amazing career as a Registered Dietitian! I was very fortunate during my internship to do a large portion of it in paediatric nutrition. My dream is to share my love for food, nutrition and cultures in a hands-on and interactive way. I believe that if you read something, you may remember it for a while, but if you do something, you'll remember it for a lifetime! I strive to find fun, practical approaches to nutrition with my clients.
Explain what sets you apart as a Registered Dietitian.
I am a professionally trained chef as well as a Registered Dietitian. I find this helps me to provide practical cooking ideas and techniques to clients I work with. I love to incorporate culinary nutrition in to sessions.
Practice Areas: 
Allergies & Intolerances, Diabetes, Digestive Health, Eating Disorders, Intuitive Eating, Mindful Eating, PCOS, Pediatrics, Pregnanacy & Breastfeeding, Services for RD's, Weight-Inclusive
Find your Dietitian on Dietitian Directory.  Are you a Dietitian, would you like a biography on Dietitian Directory, please contact us. Interested in keeping up with Dietitians across North America, please follow us on instagram.