Top Calgary Dietitians to Follow on Instagram in 2022
by Cindy Kwok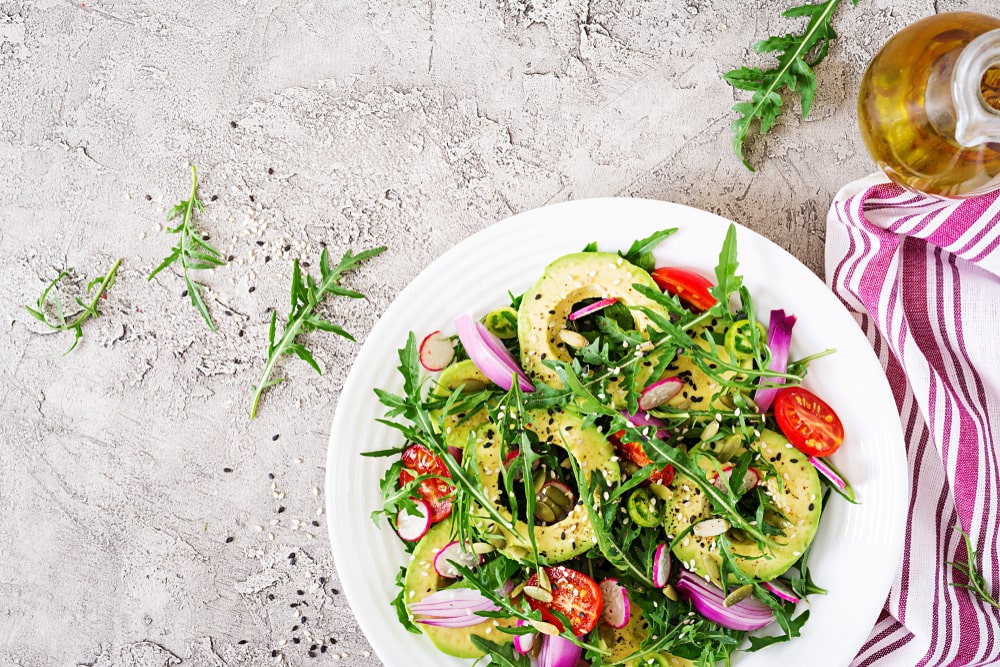 They say a picture is worth a thousand words.
Instagram is the perfect place to inspire even the most novice cooks! Following Calgary-based Dietitians on Instagram is a great way to keep up to date with trending recipes and learn more about nutrition.
Follow this amazing list of Calgary Dietitians on Instagram for some great food and nutrition ideas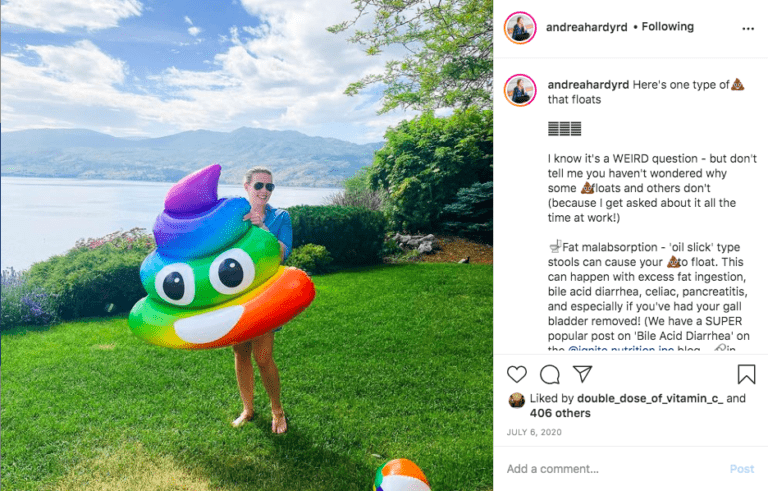 Andrea Hardy specializes in complex digestive disorders. She works with patients with IBS, IBD, SIBO, and so much more! Andrea has an amazing team of digestive disorder dietitians at Ignite Nutrition – they're recognized as Canada's largest digestive health practice!
Andrea and her team really excel in holistic care, focusing on our 4 pillars of digestive health – nutrition management, stress management, medication/supplement management, and the gut microbiome.
To dive deeper into the facts behind complex digestive disorders check out Andrea's Instagram, and if you're wanting to learn more about her and Ignite Nutrition, check out the Dietitian Directory.
Karyn Sunohara, RD and Chef, Dietitian, Chef, and owner of For.the.LOVE.of.FOOD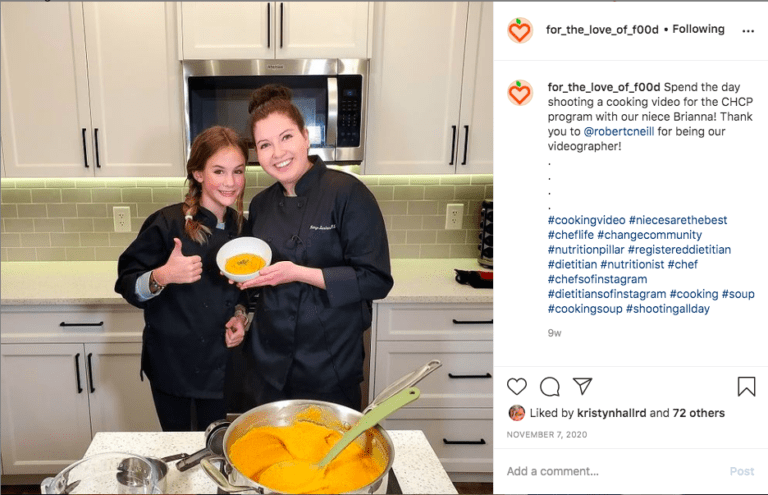 Karyn works to find practical ways to help clients meet their nutrition goals. She loves working with families of kiddos and helping them to expand their palates and foods. Karyn also helps parents learn how to build a healthy food relationship for their kids.
Karyn is a chef and Dietitian, this allows Karyn to bring practical hands-on learning to the families she works with while making it fun and interactive. This is especially helpful when coming up with food exposure activities for her picky eaters and sensory kids.
For some delicious food inspiration for you and your kids check out Karyn's Instagram, or her profile on Dietitian Directory.
Lindsay provides 1:1 nutrition counselling to clients from all walks of life who struggle with food and disordered eating behaviours. She helps clients take the challenging (and terrifying) steps toward eating disorder recovery.
Over the years she has experienced working with inpatient, outpatient, and day treatment eating disorder clients. Lindsay's goal as a Dietitian is to give clients the strength and confidence to challenge the eating disorder head-on. A favourite quote of hers is: "A comfort zone is a beautiful place, but nothing ever grows there."
Although she is not currently accepting new clients, follow Lindsay on Instagram for some tasty food ideas, her favorite restaurants in Calgary, and strategies to overcome disordered eating."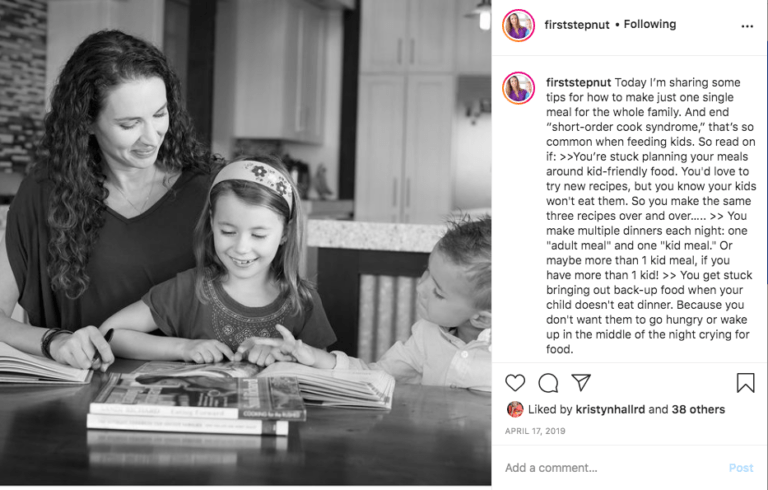 For the past 15 years, Jennifer has worked with thousands of parents to help make feeding their families easier. She offers online programs to make starting solid with baby-led weaning fun & healthy and to help parents teach their kids to try new foods without struggles at dinnertime.
A trusted source for pediatric nutrition, Jennifer has authored "The Parents' Guide to Baby-led Weaning" and "Babyfood in an Instant Pot". She is also the co-founder of the "International Picky Eating Network for Health Professionals" and the founder of the "End Picky Eating Method" for parents.
For some evidence-based help with your picky eaters check out Jennifer's Instagram.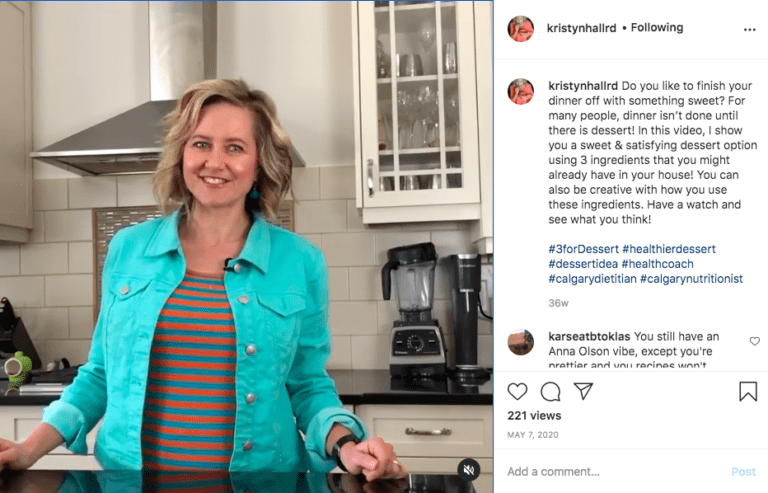 , MSc, RD, CBE, MB-EAT-P, Chief Energizing Officer at Energize Nutrition
At Energize Nutrition Kristyn helps men and women in midlife eat better and feel better. Energize Nutrition provides energy, education and a shame-free space to talk about your food and nutrition struggles. In addition, Kristyn and her team offer nutrition coaching, cooking classes, and consulting services.
Clients tell Kristyn that she is a "different" Dietitian. She is able to create positive connections with clients where they feel safe to explore their food and nutrition struggles. From this connection, Kristyn blends together Medical Nutrition Therapy with health coaching to help clients have a different experience with her.
Be sure to check out Kristyn's Instagram for some appetizing recipes and inspiring captions, and head on over to the Dietitian Directory to learn more about her and the Energize Nutrition team!
Chelsey Love, RD, Owner of Chelsey Love Nutrition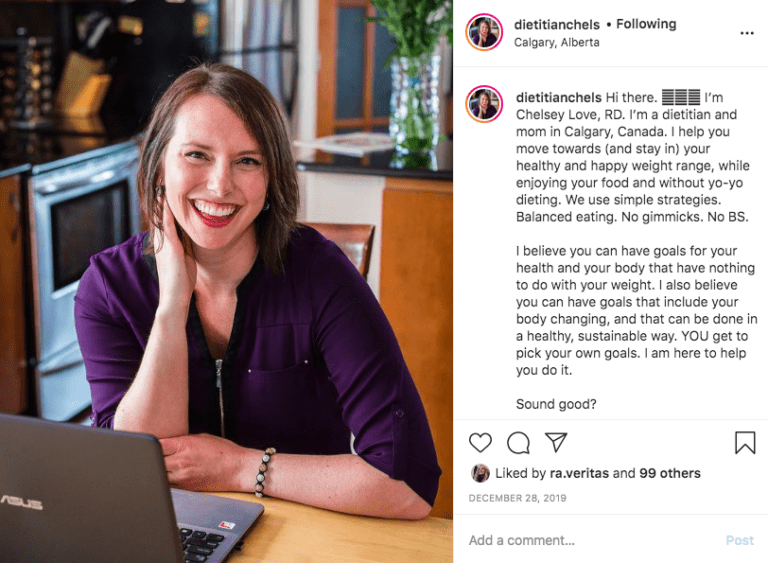 Chelsey helps her clients feel fantastic without giving up favourite foods. She is passionate about helping Albertans reach their healthy & happy weight range, by simplifying nutrition and empowering them to make lasting habit changes.
Chelsey gets it. She knows how it feels to reject diet culture and want to make changes, lose weight, and feel your best. As a busy mom of two, Chelsey truly understands the challenges of putting herself on the priority list. She knows what it's like to struggle for meal ideas the whole family will eat and enjoy. She is realistic, empathetic, and is right there along with you, aiming for progress – not perfection.
To follow along with Chelsey's life, reject diet culture, and overall bring some positivity to your feed, check her out on Facebook or Instagram.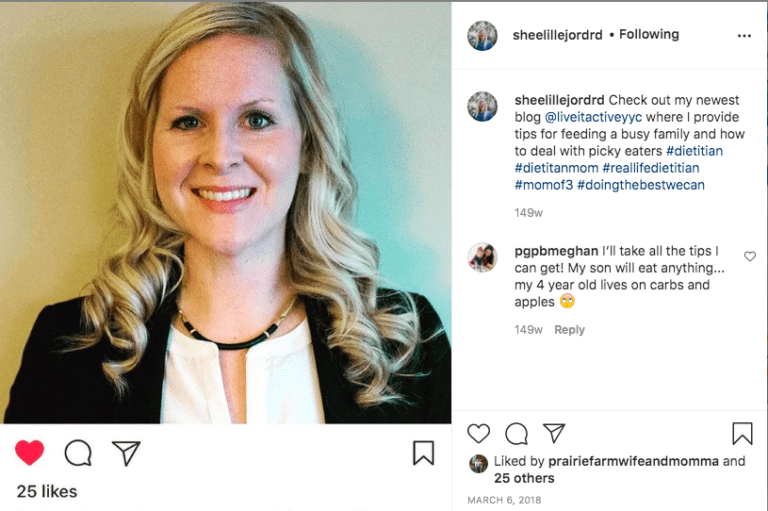 Shée is a Virtual Registered Dietitian. She decided to become virtual, as it provides both you and Shée flexibility. You can have your appointment from the comfort of your home or workplace.
For the past twelve years, Shée has been providing nutrition counselling, education, and providing nutrition programs to all ages. Her goal is to empower you or your loved ones to make healthy lifestyle choices through small realistic changes. Shée will help simplify food for you and help you how to enjoy food again! Shée will never tell you not to eat your favourite foods, but rather teach you how to enjoy them in a healthy way!
Learn more about Shée's work by visiting her Facebook page and Instagram page. Also find her listing on the Dietitian Directory.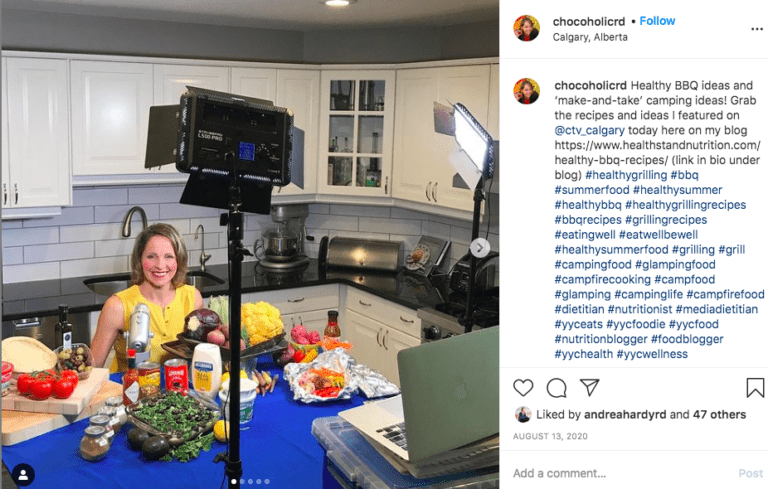 Andrea's mission is to empower people to create a healthy and joyous relationship with food and their body. This means getting enough nutritious foods for health, but also saving room for foods chosen exclusively for taste and social fun (like nachos and dessert). Andrea founded Health Stand Nutrition in 2000 and since the beginning, their services and resources have always been grounded in science and practicality (no-nonsense here).
Andrea and her team of experienced Online Nutritionists / Calgary Dietitians empower people to live healthFULLY + soulFULLY. They will help you stop stressing about food and your body. They make healthy eating simple, fun, and more effective in improving health and your personal best weight. Their ultimate goal is to ensure you love food and love your body.
If you're interested to find out more, you can find her and her team through their Facebook, Instagram, and over on the Dietitians Directory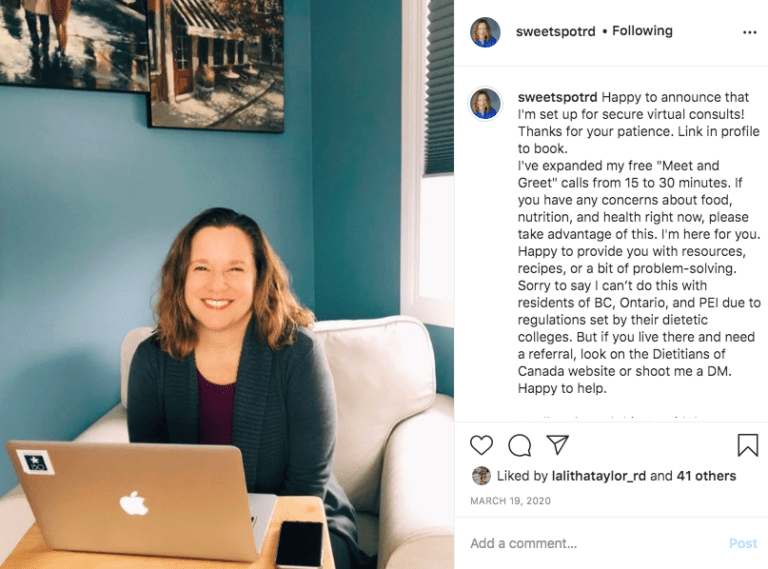 Cheryl is on a mission to share her love for delicious, real-life, heart-health-enhancing food. Cheryl believes the most heart-healthy way of eating is one that doesn't stress you out. She supports people in getting to what she calls the Sweet Spot: Healthy, delicious, and most importantly, right for you.
Cheryl works with people who have heart concerns, focusing on optimizing well-being rather than weight loss. All people and bodies are unconditionally welcomed, respected, and supported.
Learn more about Cheryl's work by visiting her Facebook page and Instagram page. Also, find her listing on the Dietitian Directory.
Kelly Anne Erdman, MSc, RD, CSSD, Dietitian at University of Calgary Sport Medicine Center and Health & Performance Nutrition Inc.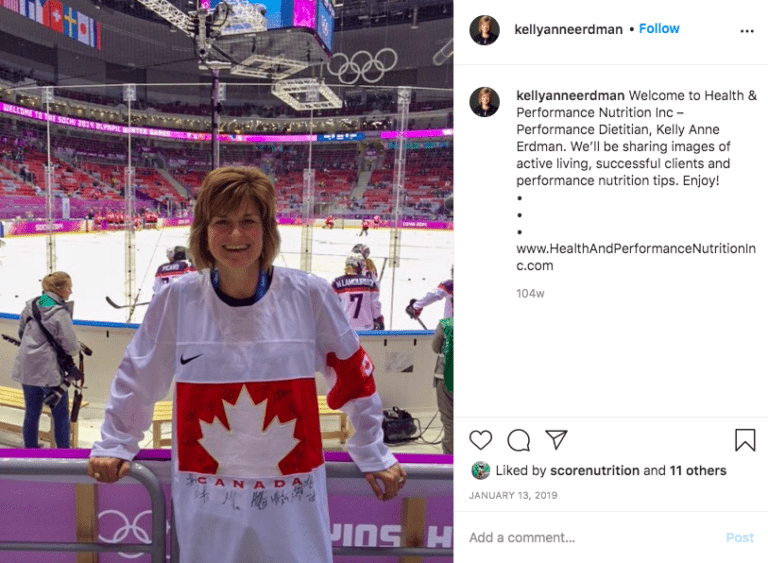 Kelly Anne supports clients on their journey to achieve personal bests in health, fitness, sports nutrition & weight management – whichever their aspirations. Proactive nutrition is in their hands for optimal health & well-being.
Kelly Anne has years of experience working with a variety of clients. Her depth of knowledge provides an intuitive ability to listen carefully to clients' needs and provide extensive support for their health and /or performance goals.
To learn more about Kelly Anne you can check her out on Instagram, or over on the Dietitians Directory.9
Sarah Glinski, RD, Dietitian at Ignite Nutrition.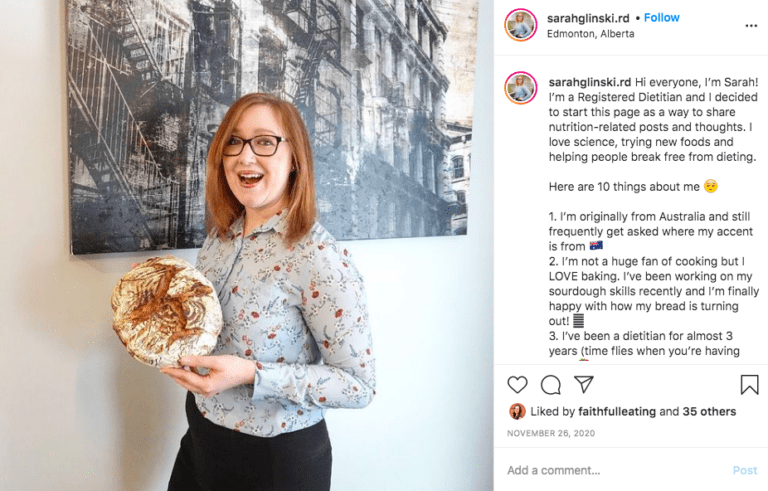 Sarah's favorite part of being a Dietitian is helping people take food a little less seriously. Food rules are no fun, and letting go of food rules and guilt is often the first step to developing a happier, healthier relationship with food. Regardless of whether you're looking to manage a digestive disorder or regain trust in your body, her approach to nutrition includes principles of Intuitive Eating and doesn't just involve looking at what you eat, but also your relationship with food.
Sarah wants to know you and hear your story. You are the expert on your own body and are an important part of your care team.  Her goal is for clients to leave appointments feeling empowered and like they're in the driver's seat of their health.
To learn more about your relationship with food and how to manage it check out Sarah's Instagram!
Vincci Tsui, RD, Dietitian and Certified Intuitive Eating Counsellor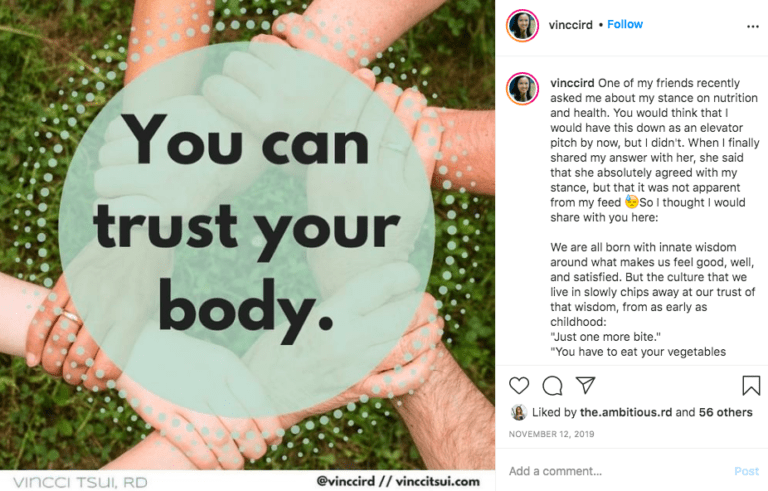 Vincci helps folks who struggle with eating disorders, disordered eating, and/or chronic dieting step away from diet culture and live life on their own terms, using an approach rooted in Health At Every Size, Intuitive Eating, and mindful eating frameworks.
Vincci is a former bariatric Dietitian and was one of the first Certified Intuitive Eating Counselors in Calgary.  Vincci is also the author of The Mindful Eating Workbook.
If you're interested in the work Vincci does with emotional and Intuitive Eating, you can find out more on their Instagram, or Facebook.
Esther Lac, Registered Dietitian, Owner of Trellis Nutrition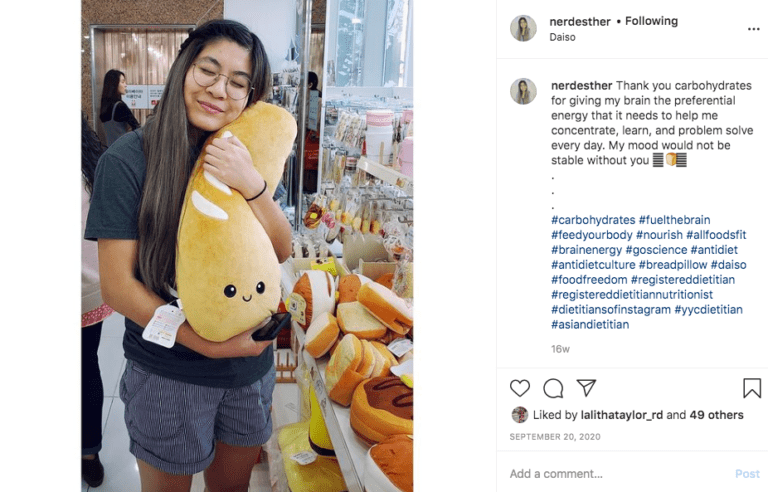 Esther uses an Intuitive Eating and non-diet approach when helping clients make peace with their relationship with food and body image amidst an ever-complicating and ever-changing context of cultural, social, and personal expectations. Additionally, Esther uses my website and social media to increase Asian representation within dietetics and raise awareness of how culture and food, and nutrition influence one another.
As an Asian-Canadian and a Registered Dietitian, Esther has unique lived experiences of how East Asian health beliefs, practices, and culture influence food and health-related decisions. As a result, Esther can provide compassionate and practical counselling when it comes to building healthy relationships with food and body image that have been affected by cultural influences that have been passed down from generation to generation.
Learn more about Esther's approach by visiting her Instagram page.
Andrea Clarke, RD RYT, Dietitian, and Owner of Nourished Freedom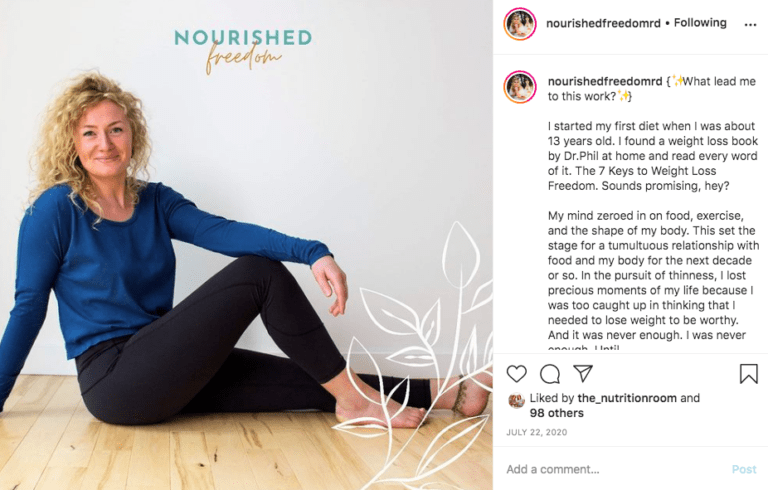 Andrea's approach is rooted in the principles of Health at Every Size and Intuitive Eating. She helps clients overcome chronic dieting and learn to reconnect to their innate hunger, fullness, and satiety cues so that they can find more ease with food and movement to find true, holistic self-care. Andrea uses science and spirituality to guide her clients back to their wholeness.
Andrea infuses teachings from yogic philosophy, mindfulness, and social justice to help clients heal from diet culture. In the session, she takes time to ground herself, connect inward, and breathe before diving into the work of finding freedom with food. Andrea believes that when we practice these techniques in a session that her clients will remember that they can get through uncomfortable moments that come with learning Intuitive Eating and saying goodbye to diet culture.
Learn more about Andrea's approach by visiting her Facebook page and Instagram page.
Renee Little, RD, Registered Dietitian and Owner of The Ambitious RD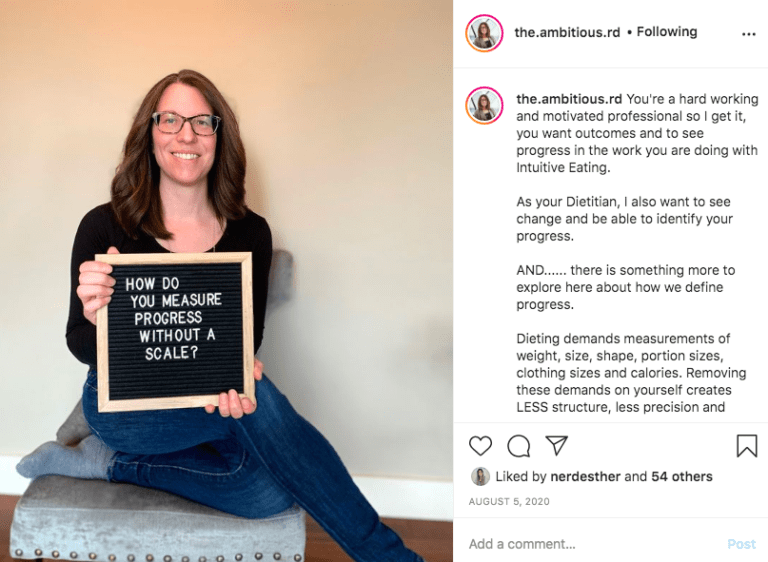 Renee Little is a Registered Dietitian and certified Intuitive Eating coach. She helps folks to heal from chronic dieting and disordered eating. Renee supports individuals who want to be free of dieting, feel comfortable in their body and eat without feeling guilt or shame.
Renee also has training in creating a positive body image and is currently taking eating disorders training for dietitians.
All are welcomed to Renee's Instagram and Facebook to find support for healing from long-term dieting and disordered eating.
Alberta Dietitians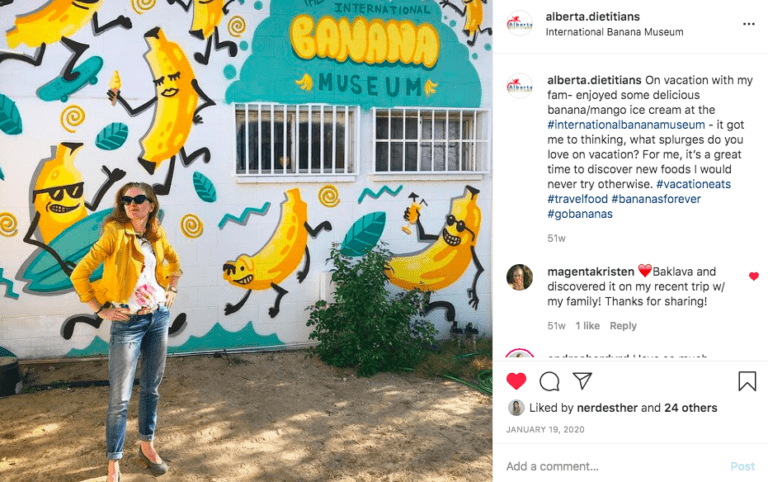 Alberta Dietitians is a collective Instagram page of Alberta based Dietitians. It combines the best work of Albertan Dietitians including recipes, nutrition tips, and Dietitian biographies.
Follow Alberta Dietitians on Instagram and Facebook.
There are so many perks to following local Dietitians. They're relatable they can fill you in on the produce in season, and local food hacks.
To find more Canadian Dietitians to follow, check out the Dietitian Directory website.
About the author: Cindy Kwok is currently a second-year student at the University of Alberta studying to become a Registered Dietitian.