Dessert Restaurants that Edmonton Dietitians Love
by Megan Wallace, RD and Jenny Brown, RD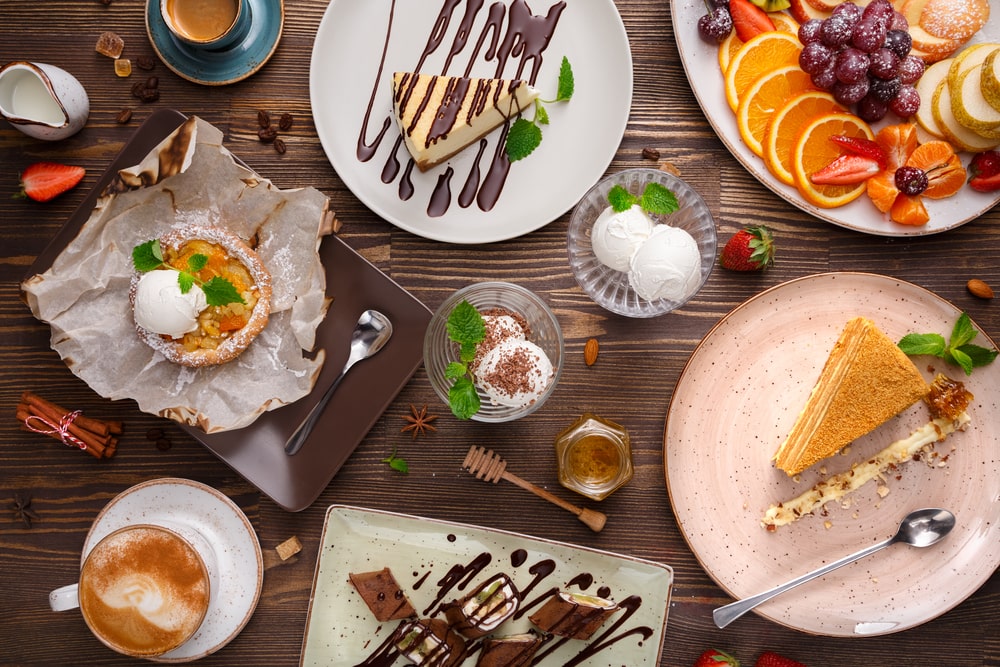 Want to have your mind blown? Dietitians eat treats just like everyone else! Sometimes we eat foods for reasons other than nourishing our bodies. Sometimes we eat food because it's fun. We are in this profession because we love food of all types. We definitely love to talk about healthy eating, but the truth is, healthy eating is about more than just food…it's about having a healthy relationship with food!
Consider this… have you ever craved a cookie? A cupcake? A slice of your grandma's famous apple crisp? Have you ever avoided it until you ate three 100 calorie packs of cookies, 2 rice cakes with peanut butter, a handful (or two) of the not-so-good chocolate baking chips, only to plow through a giant serving of whatever you were craving in the first place? Well. So have we.
We strongly believe that listening to your body and learning to understand the desire to eat certain foods is crucial! So is honoring that desire in the right way… this is the backbone of intuitive eating. So when those moments pop up for you this summer, where you long for your favorite frozen dessert, or would love to kick those feet up with the ones you love and share a cold adult beverage, be mindful of how you feel before, during and after your goodie! Try and take things slowly to really savour and enjoy it. Indulge in the company of those around you and enjoy guilt-free!
So check out our favorite Summer treat places in Edmonton to connect with our bodies, our friends and our city.
A favorite for a post bike-ride breakfast or brunch. With it's crispy, chewy top and slightly gooey bottom, this chocolate croissant bread pudding is sure to delight. Shared perfectly with your favorite riding companion and a nice, dark coffee. They sell out quickly, so this is for those early birds!
Handcrafted flavours of all kinds are found in this sweet little shop in the heart of Ritchie Market, Edmonton. Locally sourced ingredients are used with love to make the highest quality batches of ice cream in the city. A particular favourite of ours is the cold brew coffee flavour – a rich and creamy delight! Vegan options are also featured.
Want to enjoy a simple treat that has rock-star fame? Check out this trendy Edmonton spot that has gained significant popularity since their doors opened in 2017. From the classic Apple Fritter to unique concoctions like Watermelon Sugar, London Fog and a rose and lychee flavoured 'Chez Pierre'! A particular favourite of ours is the scrumptious Birthday Cookie Crumble – it is melt in your mouth goodness.
A cold beer after a hot day in the sun is like nothing else! When time permits, it's always great to grab a friend and head to Julio's for their take on an adult slushie! An ice cold Corona, over easy into a glass of lime slush – cool, tangy and refreshing! Sip, savor and enjoy  responsibly!
The cupcake craze is still well and good! Flirt cupcakes offers a variety of delicious little personalized cakes.. otherwise known as cupcakes! The sweet Georgia Brown is one of our Dietitian's favorites as it pairs the sweet and spicy cinnamon cake with a brown sugar and cream cheese topping! If we have rain in Edmonton like we did last summer, I can see these comforting flavours being like a warm-hug on a wet, cold summer day.
How can you not love a place with the slogan 'Work Less. Eat more'. This local sandwich, coffee and baked goods store has been wowing customers since 2014. A unique touch to their culinary offerings are the 'cronuts'. These delightful little treats are what you get when you cross a croissant with a donut – genius! We love the coconut cream pie cronuts. But they have many other flavours featured and switched up regularly.
Help support local businesses during these tough economic times. Many of the above establishments offer delivery or curb-side pickup for your safety.
If you find that you struggle to maintain a healthy balance with food, and would benefit from learning more about how to enjoy a healthy relationship with food, consider meeting with a dietitian who specializes in intuitive eating.