Top 10 Local Grocery Options in Edmonton
by Jenny Brown and Katie Brown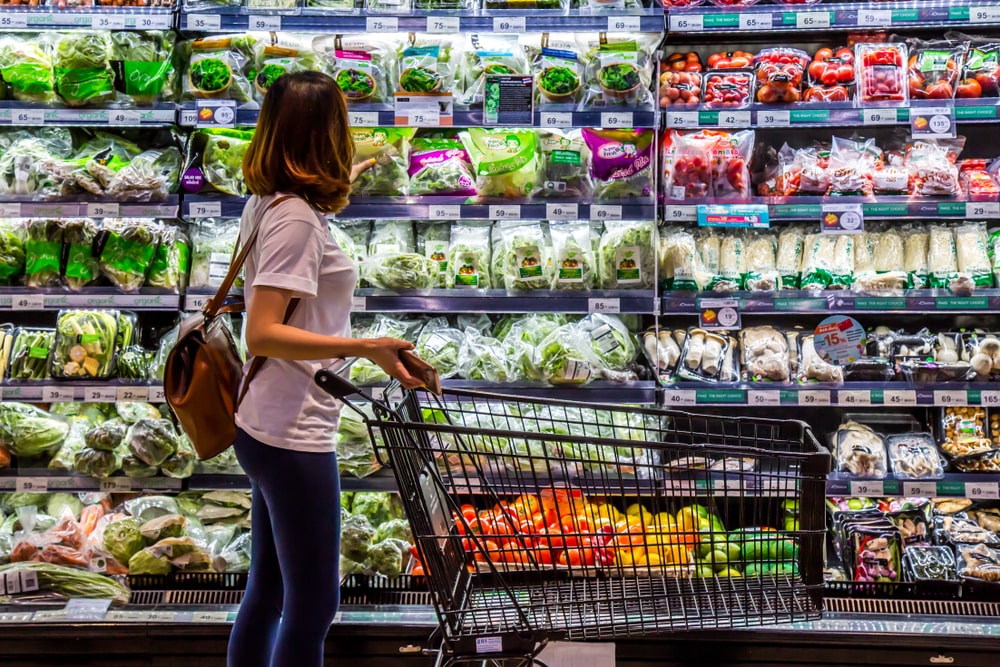 Love it or hate it, it's quite possible that the most excitement you're getting lately is your weekly trip to the grocery store. Make this special excursion even more exciting and meaningful by supporting some local Edmonton grocery stores.
Let's face it, Costco is going to survive these hard economic times but the 'Mom & Pop' shops may not.
Check out our pick of the top 10 local Edmonton grocery stores!
1. Blush Lane Market – Organic Grocery Store
Head down to this trendy little gem on Whyte Avenue for some high-quality organic foods. They have an amazing selection of fresh fruits and vegetables, free-range eggs, vegan and organic dairy products, ethically sourced meats and seafood, and a great selection of bread and goodies at their bakery. You can shop online and have your groceries delivered for free. Check out their website for details.
2. H & W Grocery – Grocery Delivery
'Spend Less for Fresh' at this locally owned grocery store that sells a wide variety of fresh and affordable produce. With 5 locations in Edmonton, this store offers produce sourced from local farms as well as exotic foods from around the world. If your budget is extra tight during these tough economic times, H&W grocery Edmonton offers even better deals on their weekly specials. Deliveries are available for a small fee. Check out 'Edmonton's Best Kept Secret'. Website
3. Bountiful Farmer's Market
Touring this indoor farmer's market might just put a spring in your step! This market hosts a wide variety of vendors so that you can stock up on fresh local fruits, vegetables, herbs, meat, and seafood, indulge in freshly roasted coffee, and perhaps pick up a treat or two for a special occasion. This place has it all! Check out their website for more details on their vendors and their curbside pick-up options.
4. Italian Centre – Italian Grocery
For a truly international experience, step into this charming and lively family-owned store for a little taste of Europe. With fresh produce offered at affordable prices, the real highlights of this store are the European deli, with a wide selection of meats and cheeses, and their signature bakery. Contact-free delivery service available on minimum orders of $75. Find a location closest to you by going to their website here.
5. Kinnikinnick – Gluten-free Grocery
For celiac and allergen-friendly baking ingredients, ready-made bread, buns, bagels, and more, this locally owned business guarantees 'safe and scrumptious' products. All products are free from gluten, dairy, nuts, peanuts, and soy with select egg-free products. Find their products in Superstore, Safeway, or Sobeys in Edmonton. And with free shipping on orders over $50, you can easily shop from home online. Check out their wide selection of foods and recipes on their website.
6. Al Madina Halal Meat & Deli – Middle Eastern Grocery
This specialty local butcher carries a great selection of Alberta beef, lamb, and goat, along with free-range chicken and turkey products. In addition, they also offer a variety of imported food and Middle Eastern groceries. Place your order ahead of time for curbside pick-up. Find their location and contact information on Facebook.
7. Kim Fat Market – Chinese Grocery
Along with fresh fruits, vegetables, herbs, and spices, this family-owned Asian market also carries many hard-to-find imported items as well as free-range quail and duck eggs. Their artisan butcher department carries a wide selection of traditional-style or custom cuts of beef, pork, goat, and lamb…they also offer live seafood. Their very experienced staff can also offer tips on how to best prepare their food at home! Check out their website for more details.
8. Argyll Foods Tienda Latina – Latin/Mexican Grocery
If you're a fan of Mexican and Latin American cuisine, this little specialty food market is your one-stop-shop for an amazing selection of whole-grain tortillas, beans, chiles, spices, sauces, and other fresh ingredients. This locally operated small business is conveniently located along major roadways in central Edmonton. For their location and other details, check out their website here.
9. Uproot Food Collective
Take back the power! Devoted to changing the food industry for the better, this small Edmonton grocery company offers quality local food products that won't cost you an arm and a leg. They carry high-quality frozen meats, perogies that would make your Baba think they're homemade, ethically sourced chocolates and other tasty treats as well as locally produced kombucha for your daily dose of probiotics. This little revolutionary powerhouse makes supporting a variety of local producers easy and affordable. Make plans to stop by this weekend! Find their website here.
10. For the Love of Cheese – Vegan Cheezery
For the vegans among us, you'll rejoice in this small local business that offers a dairy-free, gluten-free, AND preservative-free alternative to dairy cheese. Their wide variety of cheese alternatives includes cheddar, Gouda, feta, mozzarella, and Havarti. All made with plant-based, heart-healthy ingredients that when possible, are also local. Contrary to popular belief, vegan cheese can have all the taste and lovely texture of dairy cheese can melt nicely onto a crispy crostini and pair well with a great glass of wine. Check out their products in more detail on their website.
Many of these stores are offering special services such as delivery, online-ordering and pickup options during the pandemic.
Did we miss any of your favorite locally-owned grocery stores in Edmonton? Let us know in the comments below!
Authors:
Jenny Brown is an Edmonton-based Dietitian, she is the owner of FoodMed.Inc and she specializes in promoting healthy weight management, particularly for chronic conditions.
Katie Brown is a Sherwood Park-based Dietitian, she is the owner of  Inspire Nutrition.  The focus of Inspire Nutrition is to share evidence-based information and help clients live their best lives, free of food rules or diets. Katie brings enthusiasm, compassion and a desire to help others rekindle a healthy relationship with food.