Sunworks Farm- Providing local organic products
by Kenzie Urban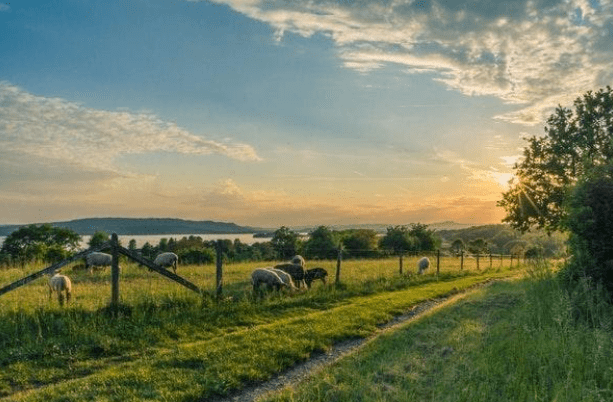 Sunworks Farm
You may have seen Sunworks Farm at your local farmers market, but have you stopped to think about exactly who is behind the product or the values of the farm?
Today we go beyond the name and learn a bit more about Sunworks Farm.
Just 1 hour outside of Edmonton in Armenia, lies Sunworks Organic Farm. Owners Ron and Sheila Hamilton provide customers with an organic humanely raised option for meats and farm-fresh eggs.
Sunworks Farm is grounded on the principles of organic farming and holistic agriculture. This is shown through their commitment to the environment, their customers and most importantly their animals.
What is Holistic agriculture?
Holistic agriculture helps farmers like Ron and Sheila manage their farms in a way that benefits both the environment and the farm itself.
Holistic farming uses practices that can be carried on in the future to maintain a healthy and socially sound farm. This includes raising their animals in a way that improves the land and helps to sustain the farm into the future.
Organic and Humanely raised meats
It's in the name- of the sun, it really does work to raise healthy and happy animals. At Sunworks Farm, all animals have access to clean water, fresh air, green grass and sunshine. Exactly how they are raised depends on the animal.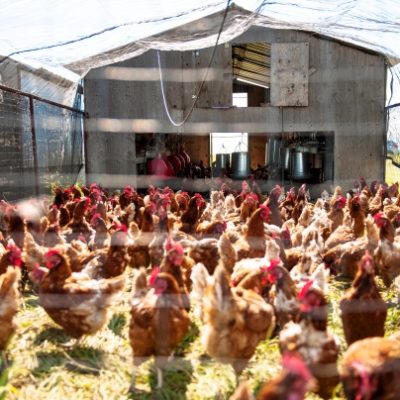 Chickens and Turkeys: In the summer months, chickens and turkeys are raised free-range, able to roam free around a pasture. In the winter, they are brought inside barns with lots of sunlight and given enough space to run free around the barn.
Organic Eggs: Hens are raised free-run in mobile barns that are moved onto fresh grass daily and run freely around the barn.
Cattle: Their cattle roam freely around the pasture, graze on fresh grass in the summer and are provided organic hay in the winter.
Pigs: The pigs also roam freely around the pasture and can graze on fresh grass but are also provided with organic feed.
You can visit their website, for a more in-depth look at how their animals are raised.
Sunworks Farm Cares
How can you be sure that Sunworks Farm is held to the highest standard? Sunworks Farm is certified Organic and BC SPCA-certified humane, through their animal welfare program. This means that they undergo inspections each year to make sure they follow the requirements for the humane treatment of animals.
Also, for their products to be labelled as organic, they are regularly inspected to make sure they follow the Canadian Organic Standards. Because of this, you can be better assured that their animals and the quality of the products are a top priority.
Supporting local farmers
Now more than ever, it is important to support local farms like Sunworks Farm.
When you support a local farmer, you also support other industries that work alongside the business. The organic farm buys its grains and spices from other local organic farms and companies.
By buying local products, you also can be ensured that you receive the freshest product possible. Plus buying local products reduces your carbon footprint and the impact on the environment.
What products does Sunworks Farm sell?
Products such as organic meats including chicken, turkey, pork and beef as well as free-run eggs. They also offer a variety of different deli meats and sausages. All of Sunworks Farm's sausages, hot dogs, bacon and deli meats are celiac safe and common allergen free like nitrates, sulphites, egg, wheat, corn and dairy.
For your next BBQ, how about stocking up with their BBQ box which features, beef and chicken patties as well as chicken jumbo dogs? Perfect for outdoor grilling!
How can you get your hands on some of their products?
Products are sold directly to customers, helping to keep costs low. This is one of the reasons why their stands can be found throughout local farmers' markets across Alberta.
There are a couple of options when it comes to buying their products:
1) Order online directly from the Sunworks Farm website.
2) Visit one of their locations across Alberta.
3) Subscribe to a grocery delivery service such as Organic Box or SPUD.ca which carry Sunworks Farm organic products.
Here is an insider tip-  You can pre-order rotisserie chickens for pick up at their Avenida Food Hall and Fresh Market location in Calgary! That just made dinner a whole lot easier tonight!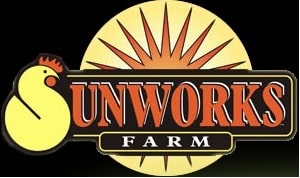 Want to learn more about Sunworks Farm?
To learn more about the Sunworks Farm philosophy, you can visit their website where they talk about their farm values and guiding principles.
Looking for a more in-depth and hands-on experience?- From time to time, Sunworks Farm offers farm tours. Contact the farm directly to learn more.
Can't make it to the farm? Visit one of their locations across Alberta inside farmers' markets and local grocery stores.
Disclaimer: The thoughts and opinions expressed are by the authors and not sponsored by Sunworks Farm.
Authors: Kenzie Urban Dietitian student and Allison Easton, RD, who is a partner in the Nourish Collective.