Dietitians' Favorite Movie Night Snacks
by Sheryl Wang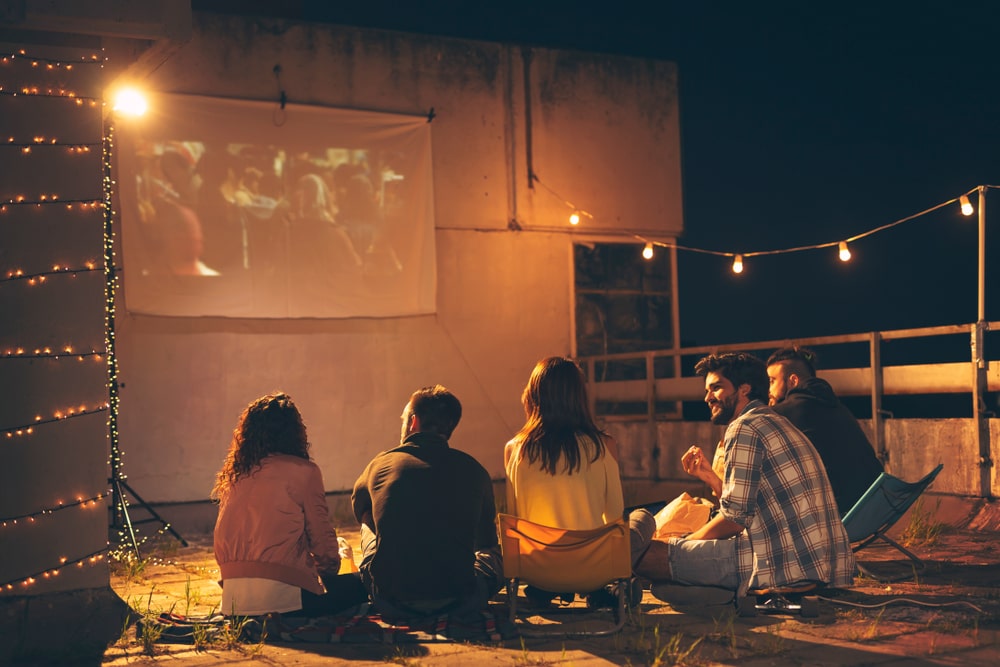 Have you ever wondered what kinds of snacks can help you enjoy the movie night while providing some essential nutrients?
Here are some great ideas from the Dietitians on Dietitian Directory.
Jennifer House, MSc, RD and the Owner of First Step Nutrition
"Always popcorn! With butter and salt or a topping like this cheesy nutritional-yeast blend topper to sprinkle on. We all love popcorn (especially the dog!) which is a bonus as it's a whole grain and contains lots of fibre."
"Who doesn't love an ice cream sundae? This bowl of goodness is called "halo-halo," which is a bowl of shaved or crushed ice topped with a scoop of ice cream (I used homemade purple sweet potato ice cream), fresh or canned fruit, banana chips or unsweetened shredded coconut, and any other desserts you may have on hand. For example, caramel flan, brownie, a cookie – the choices are endless!
 I love snacks that have a lot of VOLUME (think fresh or frozen fruit, shaved or crushed ice, popcorn, roasted chickpeas, carbonated water, boiled and salted edamame, etc.) because they take longer to eat. They are way more filling, so it's less likely that you end up consuming a ton of unnecessary calories and/or sugar."
"Cauliflower or apple nachos are always a hit! They are great twists on a classic (less healthy) movie snack! This way, you get extra veggies, more fibre, and more antioxidants and can feel good about what you're eating! Topping with chickpeas will boost fibre and protein too! 
To make them:
break the cauliflower into bite-size pieces
top with your choice of add-ons (sliced peppers, tomato, onion, etc.)
sprinkle with salt, cumin and paprika
roast in the oven until tender, then top with chickpeas and a small bit of cheese and continue to bake until cheese is melted
I love twists on classics – but always try to sneak in extra veggies where I can. If you decide to go a little overboard with a little less healthy food choices? That's ok – as long as you don't do it regularly. Try sipping water instead of juice and pop, and if you have an adult drink, make sure to space them out with at least one 12oz glass of water for each alcoholic beverage"
"Movie night, after-school snacking or days by the pool is always calling for fruits, vegetables and yummy dips. It's healthy and filling; you can eat a large portion without overeating. Avocado and hummus dips provide added healthy fats and protein to provide additional nutrition and added fullness. Fruits and vegetables promote fibre intake and delicious quenching taste.
While watching a movie, your brain is busy watching the screen, therefore, not giving a chance for the neurotransmitters in your brain to signal that you are full. This can therefore lead to mindless eating and overeating. Providing fewer calories but the whole, fresh, and clean foods allow you to graze on snacks throughout the whole duration of the movie without overeating and feeling sick and uncomfortable later".
Dayna Weiten, Registered Dietitian and the Owner/Operator of Food for You Nutrition Consulting
"I often do enjoy popcorn, but it can be fun to make your own homemade snack mix. This one uses 2 different kinds of cereal (both oat-based for some soluble fibre), pretzels, almonds, cashews, dried apricots, dried cranberries and chickpea snacks. This way, you are using iron-fortified cereals, healthy proteins (nuts and roasted chickpeas) and the sweetness that comes from dried fruits. It is a healthier version of a snack mix that is lower in fat and sodium than packaged versions and even more tasty!
Go for whole foods whenever you can. Fruit and cheese, veggies and hummus or the homemade snack mix above are great options. If you are using microwave popcorn, look for ones with lower fat content and choose ones with smaller bags to make it for just one or 2 people. The larger bags work well when you are preparing snacks for the whole family.  
Go for a low-energy beverage – my favourite is a 1/4 glass of cranberry juice topped with club soda and some frozen cranberries to keep it cold and add extra flavour. A great beverage for hot summer days or while enjoying your movie night snack!"
Serena Benali, RD and the Owner of In Good Nutrition
"My go-to movie snack is a snack tray! I like variety and this way everyone has something they like! Having satisfying snacks is about pairing carbs with protein. Here I have hummus and cheese to go with chips, crackers and veggies, as well as a salsa! Choose something you enjoy and combine different food groups! Veggies, dairy, carbs! After all, variety is the spice of life".
Cheryl Strachan, RD, MBA and the Founder of Sweet Spot Nutrition
"Pretty predictable! We like popcorn, even when we've run out of bowls, as happened when I snapped this picture. Sometimes I make it from kernels in a pot, but often I pick up the Sea Salt flavour of Angie's BOOMCHICKAPOP® because it's so easy. I like this one because it satisfies that salty munching craving, but with — BONUS — fibre! Not too excited about sea salt vs. regular salt, but it's salted just enough for my liking".
You can see it's totally easy to make a quick but nourishing balanced snack for yourself and your family for Movie Night.
If you like the suggestions made in the article, please check out some of our other Dietitian Directory posts on quick easy snacks and meals.
–What Do Dietitians Eat For Breakfast?
–Healthy Packaged Snacks for Kids Recommended by Dietitian Parents
Sometimes the support of a Registered Dietitian can help if you feel healthy meal and snack planning is a struggle. If you are looking for a Dietitian, you can find one in Dietitian Directory
About the Author: Sheryl Wang is a 4th-year food and nutrition student at the University of Prince Edward Island pursuing a career as a Registered Dietitian.