Interview with Kelly Anne Erdman MSc, RD, CSSD – Sports Performance Dietitian
by Elsa Wong
Kelly Anne Erdman is a sports performance Dietitian in private practice. She works with a variety of athletes and the general public.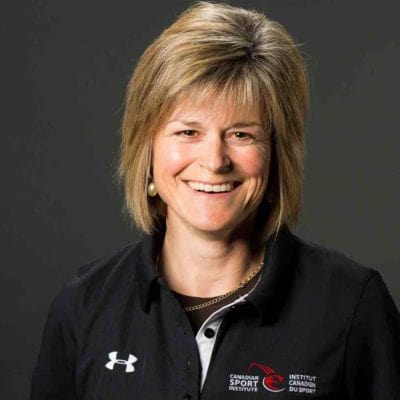 What made you want to become a Dietitian? 
For many years I was a competitive athlete and I was always interested in the area of sports nutrition. It turns out that athletes can be quite complex with not only athletic-related nutrition concerns, but they often present with a variety of therapeutic issues as well. The field of Dietetics is so diverse that Dietitians are best suited to provide the full spectrum of nutrition support for athletic clientele.
What path brought you to specialize in sports performance nutrition? 
I was always interested in sports and how it relates to nutrition. I am a cyclist and I competed in the 1992 Summer Olympics as an alternate on the velodrome and in the road race. During my undergraduate years, all my projects had a focus on sports performance nutrition as well. There was always a part of me that wanted to work with athletes. My Master's degree included a thesis investigating the dietary supplementation habits of elite athletes.
Can you describe your career path? 
I first started my career as a casual Dietitian at Rockyview General Hospital, while establishing a nutrition private practice. During this year I did my research in sports performance nutrition because back then the only nutrition information was Nancy Clark's Nutrition Guide Book and a few scientific articles. I read a lot of research studies to better understand the relationship between nutrition and sports. Also during this time, I started building my private practice, whereby I would reach out to teams and develop sport-specific nutrition workshops. The workshops would be based on a variety of topics, such as hydration, recovery eating, eating on the road, etc.
In 1990 I set up a private practice at the University of Calgary Sport Medicine Centre and still practice at this clinic a few days a week.
In 1994 I began consulting with the Canadian Sport Institute Calgary (CSI Calgary), which was the first Canadian Sport Centre to be established in Canada. Currently, I continue to consult with the CSI Calgary, and I am assigned to work with several national teams, such as Hockey Canada, Speed Skating Canada, Para-Hockey, Para-Cycling, and the Canadian Luge team. I also was the Dietitian for Team Canada at the 2012 London Olympic Games and the 2014 Sochi Olympics.
What additional training and education did you do post-graduation?
I took some exercise physiology courses, then I did my Masters in Kinesiology at the University of Calgary. I also completed the ISAK certification course so I can do skinfold measurements. I acquired the Board-Certified Specialist in Sports Dietitian (CSSD) designation, which is specific for Dietitians, unlike the IOC Diploma in sports nutrition. Currently, I enjoy teaching as a sessional instructor at the University of Calgary in Kinesiology.
What types of clients do you see? 
I see people from the general public, as well as recreational athletes through to high-performance and professional athletes. For recreational athletes, nutrition support may include advice for pre-exercise nutrition, endurance support, optimizing recovery, etc. I see a lot of runners and endurance athletes, who want to get a better understanding of what to eat to help them through their long workouts and races.  With high-performance athletes, we touch on nutrition requirements, but we also talk about eating properly on the road to boost their immune systems. Surprisingly, weight control is a common concern with elite athletes, especially in regards to lowering body fat.
What are some notable moments in your Dietitian career? 
The most notable moment in my career was watching live the Canada Women's Hockey Team win the gold medal in the Sochi 2014 Winter Olympics. It was surreal watching Canada be behind 2-0 throughout the game and in the last three minutes Team Canada would score to make it 2 -1, and in the last 90 seconds where they were able to tie the game up. Followed by their continued comeback in overtime to win the gold medal for Canada.
What does a Dietitian do at the Olympics? 
When I went to the Sochi 2014 Olympics we were able to bring another Dietitian who worked on the slopes and mountains, while I was based on the coast to support all the covered venue sports (i.e., curling, speed skating, hockey, and figure skating). We check for food safety in the dining hall, also working with the facilities staff members to ensure there is food available for the athletes after a competition that may have ended at 10 pm or later. We also advocate for the athletes if they have certain dietary restrictions and allergies, making sure the athletes have enough to eat. There is also a Canadian athlete's lounge where they can mix and relax without any press or coaches allowed access. We made sure there were enough comfort foods available for the athletes in their lounge!
What teams have you worked with and what is it like to work with a sports team? 
As mentioned I work with a number of Canadian National teams, as well as, the Mount Royal University Men's Hockey Team and the University of Calgary Men's Dinos Basketball Team. Some activities I do with teams include customized, hydration screening, supplementation protocols, etc. For example, during the Covid-19 Pandemic, I planned a Zoom Scavenger hunt with the women's hockey team, so they can get an idea of what foods have high amounts of certain nutrients and how to read food labels.
Outside of meeting with clients and teams, what other nutrition activities do you do? 
I am currently doing sessional teaching at the University of Calgary. I also do some research with Mount Royal University and the University of Calgary. In my research for my master's, I did a study on High-Performance athletes and supplements. It was a questionnaire focused on "who told them about the supplements?" "When do you take the supplements." Recently, I was able to conduct my dream study on caffeine and how it affects the performance of hockey players.
What advice would you give a Dietitian, who wants to start a career in sports nutrition? 
Pick three types of sports you want to work with, do your research, and understand the sports you want to work with. Know the terminology for the sport to better relate with the athletes. Also get buy-in from the coaches, because the athletes are going to trust what they have to say before they trust you. Lastly, be creative when you meet with the athletes, and go to where they train, whether it be a field or gym – this is a great way to build rapport with the athletes that you are working with.
Need help with sports performance nutrition? Book an appointment with Kelly Anne Erdman MSc, RD, CSSD through Dietitian Directory.
Follow Kelly Anne Erdman, RD on her Instagram 
Connect with Kelly Anne Erdman, RD through Linked In
Learn more about all the services Kelly Anne Erdman, RD offers on her website. 
About the Author: Elsa Wong, RD runs the Alberta Dietitians' Instagram account.