Top 15 Plant-based Menu Items In Alberta Restaurants
by Nancy Gammack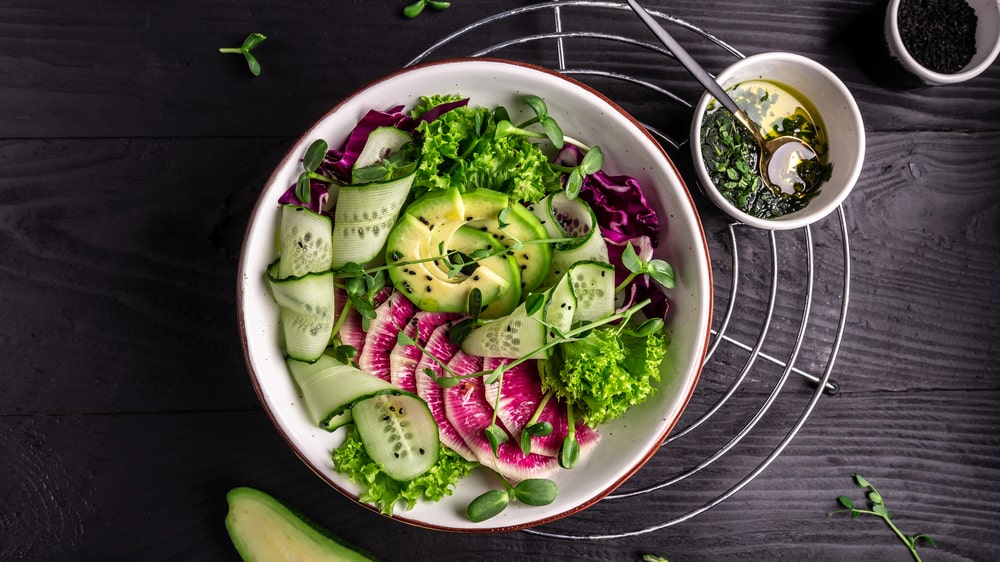 What is Plant-Based Eating?
Plant-based eating is described as a way of eating that incorporates foods from plants in your everyday diet. More simply, it's a way of eating that consists of mostly plants!
Keep in mind, that meat can be enjoyed occasionally alongside plants in a mostly plant-based diet and does not need to be excluded completely. A mostly plant-based diet is sometimes called "flexitarian diet".
Foods that come from plants include fruits, vegetables, grains, legumes, seeds and nuts. Not to mention this type of eating can allow for a more flexible eating pattern that still focus on receiving the health benefits of plant-based foods.
Plant-based eating has many health benefits. They can be lower in saturated fat and cholesterol and higher in fibre, vitamins, minerals, and antioxidants (Heart and Stroke).
These benefits support a healthy heart, and good cholesterol levels and lower your risk of chronic disease, including the development of Type 2 Diabetes, as well as some cancers (Mariotti, F).
Go Check Out a New Restaurant and Give The Plant-based Items Below a Try!
Below are 15 restaurants from across Central Alberta and beyond that showcase local restaurants with great plant-based options.
Many of these restaurants source their ingredients from local vendors, which helps support local companies and provide quality products. From each restaurant listed below, you will find a plant-based menu option that they offer!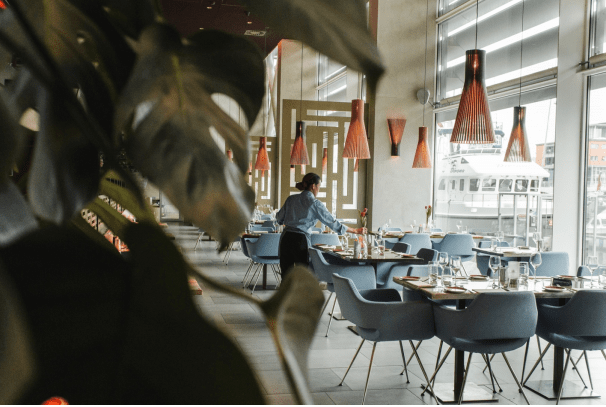 Fork and Salad – Calgary, Alberta
Fork and Salad offers a vast range of salads and rice bowls that are above and beyond a typical "garden salad." Their creative dishes allow you to get various plant-based foods in one bowl.
Try one of their classics or choose to create your own bowl with options including corn, sweet potatoes, mandarin oranges, beets, farro, quinoa, sunflower seeds or almonds.
Menu Suggestion:
Try the "I Yam who I Yam" bowl consisting of wild rice & shredded kale, apples, roasted sweet potatoes, toasted almonds, goat cheese, roasted chicken (or substitute for a plant-based protein like black beans, or chickpeas) and balsamic vinaigrette.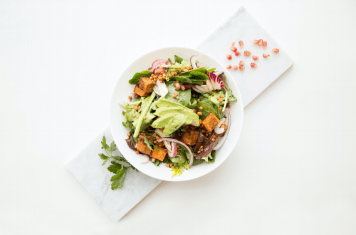 Open Sesame – Calgary, Alberta
Beyond serving traditional Asian cuisine, Open Sesame puts an exciting spin on stir-fry with their "Go Stir Crazy" dish, which lets you customize your own stir-fry.
Menu Suggestion:
Try the "Go Stir Crazy" option and choose an unlimited amount of plant-based foods from the fresh Asian Market, such as chickpeas, spinach, bamboo shoots, coconut or peanuts.
Next, pick a grain (including gluten-free choices), a protein (including meat and plant-based choices), and a sauce, and let the chef cook it and turn it into a stir-fry for you.
Sunny Side Up – Cochrane, Alberta
This endearing family restaurant is run by the Favalessa brothers, who combine their European roots with the traditions of North American breakfasts. You can choose from breakfast classics like pancakes, or more even dishes like frittatas.
Menu Suggestion:
Try the "Avocado Salmon Sandwich" which includes avocado, tomatoes, mayonnaise, and smoked salmon served on sourdough bread. Visit their website for more.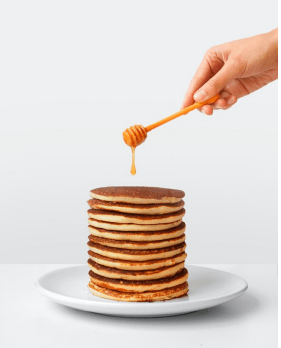 Paros on Main – Airdrie, Alberta
Paros on Main is more than just a dining experience. It includes dining alongside traditional Greek music and performances by belly dancers.
With more than 17 years of experience, the head chef Mrs. Tzigalanis, creates authentic Greek cuisine, including the traditional Spanakopita, which is a savory vegetarian pie made with spinach and feta.
Menu Suggestion:
Try the "Moussaka!" A great way to combine some meat with plant-based foods. A traditional casserole consisting of eggplant and meat, served with rice or potatoes and salad.
Tony's Vietnamese Noodle Restaurant – Airdrie, Alberta
This restaurant serves a variety of classic Vietnamese dishes including pho, stir-fry, vermicelli and spring rolls.
The menu also includes a great selection of vegetarian and plant-based dishes. From their grand list of menu items and their affordable prices, this is a great spot.
Menu Suggestion:
Try the "Stir-fried Sate Vegetables and Tofu on Steamed Rice" served with a spicy sauce. Click here for more menu items.
Pinch of Spice – Olds, Alberta
Pinch of Spice has a great selection of plant-based entrées with a menu section labelled "Vegetable Specials."
They also make dining easy for a variety of people, as they have clear labeling on vegetarian, vegan, and gluten free dishes!
Menu Suggestion:
Try the "Veg Korma", a gluten free vegetarian that has mixed vegetables, delicately cooked in a seasoned creamy sauce, with onion and cashew nuts.
Tasty Thai Restaurant – Olds, Alberta
This restaurant serves quality dishes with their fresh ingredients sourced from local farmers' markets. the Tasty Thai Restaurant menu includes a large variety of dishes with a specific section called "Fish and Vegetarian".
Menu Suggestion:
Try the vegetarian "Yellow Curry Tofu" comprised of tofu, yam, broccoli, onion, carrot, and zucchini served in a sauce with yellow curry paste and coconut milk.
Glenn's Restaurant and Gift Shop – Red Deer, Alberta
When you are missing one of your favourite home cooked meals you had as a kid, Glenn's Restaurant and Gift Shop is the place to check out!
The menu selection is vast and includes many classic dishes such as turkey pot pie, mac and cheese, pasta, salad, stir-fry, soup, hamburgers and more.
The degree of plant-based foods really varies in these dishes, but with a little searching you can make a great dish that is predominately plant-based!
Menu Suggestion:
Try the "Gluten Friendly Greek Wrap" with spinach, chicken, red and green pepper, red onions, tomatoes, cucumber mixed with tzatziki sauce and Greek vinaigrette dressing, plus a side!
Addy's Middle Eastern Cuisine – Red Deer, Alberta
Addy's offers a variety of Middle Eastern dishes including falafel, shawarma, kebabs, and hummus.
Nestled right near the Rotary Picnic Park, it is a great meal to grab on the go and enjoy as a picnic.
Menu Suggestion:
Try the Vegetarian "Falafel Plate". This comes with six falafel patties containing of chickpeas and spices. It is served with hummus, pita bread and your choice of salad.
Resolve Bar and Grill – Blackfalds, Alberta
It can be really challenging to find plant-based meals at bars. Oftentimes, their dishes are heavily comprised of meat and consist of a variety of beef burgers and wings.
Beyond burgers and wings, this bar nestled in Blackfalds, Alberta serves up a great veggie burger like no other! Check out more here
Menu Suggestion:
Try the "Veggie Burger" and say goodbye to those frozen vegetarian burgers bought from the grocery store.
This veggie burger is made fresh in house, and includes plant-based foods such as seasoned black beans, oats, almonds, sunflower seeds and carrots. Plus, you can choose to top it with guacamole and a three- cheese blend.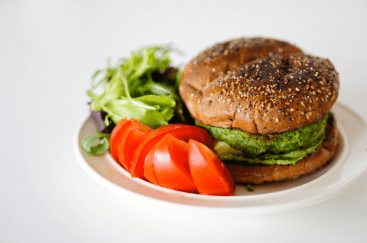 Cilantro and Chive – Lacombe, Alberta
The creativity displayed in dishes served at the family-owned and operated, Cilantro and Chive is top-notch and definitely worth checking out!
From peaches in your salad, to pulled pork on your mac n' cheese or blueberry goat cheese on your burger, there is sure to be a dish here that you have never tried before!
Menu Suggestion:
Try their "Smoked Trout and Arugula Salad:" trout served with a large variety of plant-based foods, including crisp apple, arugula, bell pepper, onion, asiago, and apple cider vinaigrette. Of course, don't forget some grilled focaccia on the side.
Chachi's – Leduc, Alberta
Chachi's offers fresh and high-quality sandwiches, as they source their ingredients from local suppliers. It is a great place to grab a sandwich when in a rush, or try one of their 5 different kinds of "mac 'n cheese."
This business was established in Calgary, Alberta, and now you can enjoy it throughout the province, including in Leduc.
Menu Suggestion:
Try their "Vedge Sandwich" loaded with goat cheese, provolone, red pepper spread, balsamic crema, sundried tomato, artichoke, Italian roasted red pepper and arugula.
Habaneros Mexican Grill – Leduc, Alberta
Are you craving a spicy Mexican dish? Look no further Habaneros Mexican Grill, a family restaurant that serves up great classics including tacos and enchiladas and, of course, Tequila and Margaritas too! They also make their own salsas.
This restaurant is located in the town of Leduc, so it is great for those local to Leduc and even the surrounding area. For Edmontonians, it is only a 12-minute drive South of the city and well worth the drive.
Menu Suggestion:
Try the "Chimichangas", which have a large assortment of plant-based foods; including, corn, black beans, edamame, bell peppers, onions, sautéed mushrooms, rice and refried beans served in a flour tortilla. Don't forget to top it with guacamole, sour cream and pico de gallo.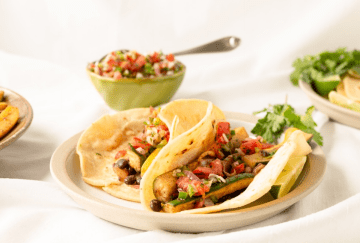 Remedy Café – Edmonton, Alberta
This trendy Indian and Pakistani café consists of a large array of plant-based meals. Choose from a variety of vegetarian wraps like the chickpea-based "Chana Masala", or dishes like the "Vegan Butter Chicken" served with naan, rice, or pita.
Remedy Café does a great job tailoring to vegan and vegetarian options making it easy to find plant-based options!
Menu Suggestion:
Try the "Aloo Mutter," which is a Punjabi dish made from potatoes and peas in a spiced tomato-based sauce. This entrée is served with naan, rice or pita.
Highlevel Diner – Edmonton, Alberta
This restaurant located in the trendy neighbourhood of Garneau. They serve breakfast, lunch and dinner in a cozy sit-down atmosphere. They are known for their mouthwatering cinnamon buns, which sell out daily!
In addition, their menu items are conveniently labeled Vegan, Vegetarian or Gluten Free to make it easier for those with dietary restrictions.
Menu Suggestion:
Try their Vegan "Black Bean Chilli" made with organic black beans. This dish is cooked with Santa Fe spices and served with char grilled corn bread.
These local Alberta restaurants showcase dishes that can support eating predominately plant-based foods, while still getting to dine in or out at local restaurants!
Written by Nancy Gammack, Dietetic Intern. Edited by Jessica Eddy, RD. Connect with Jessica here. Read more about Jessica here.