Top 10 Edmonton Dietitians on Instagram That You Need to Follow
by Hannah Deacon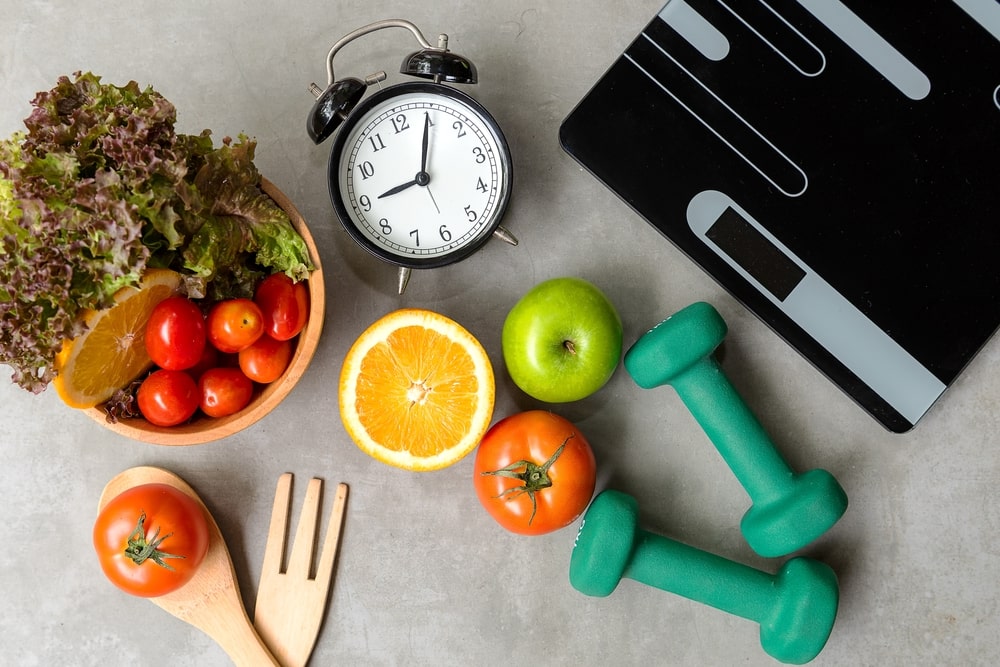 Following Edmonton Dietitians on Instagram is a great way to add some healthy inspiration to your feed (and food). Here are the top 10 Edmonton Dietitians on Instagram that you need to follow.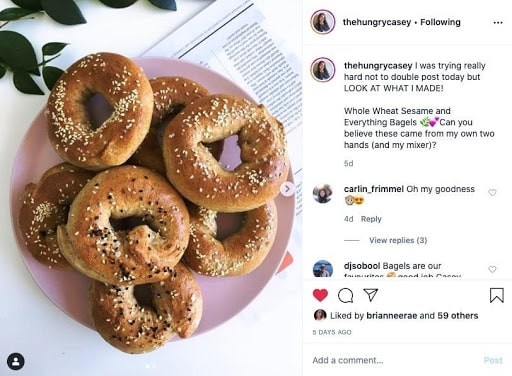 Casey Sobool is a Registered Dietitian with a passion for creating great-tasting plant-based recipes. Her love of cooking and baking can only be rivaled by her enthusiasm for leaving diet culture in the proverbial dust. Her Instagram page is brimming with amazing-looking vegan food that will make your mouth water. Follow @thehungrycasey on Instagram for some daily food inspiration and you just might see a few pics of the cutest dogs of all time too.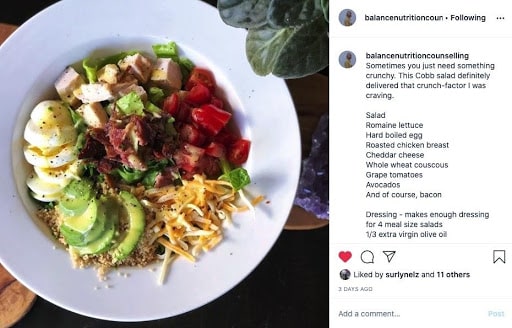 Erin Nelson, Registered Dietitian, and owner of Balance Nutrition Counselling specialize in healthy eating focusing on body acceptance and Intuitive Eating. Through her Instagram feed, she aims to concoct a mix of yummy tried and true recipes while sprinkling a few posts that let you know she is an advocate for the vulnerable and not afraid to take a stand on social issues. To get your fill of food and activism, follow @balancenutritioncounselling on Instagram.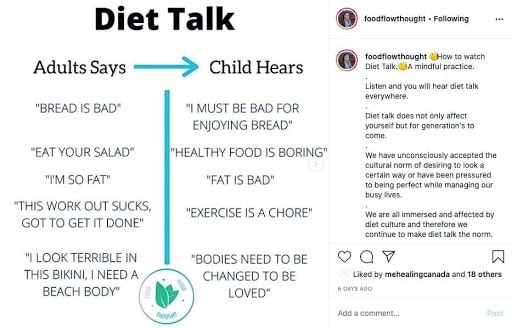 Rachel Tu is a Registered Dietitian, owner of Food Flow Thought, and is both a Certified Intuitive Eating counselor and a Yoga Instructor. Her aim is to guide you to connect to body wisdom and heal your relationship with food and your body. Her Instagram feed offers a wide array of helpful food and shopping tips, body movement information, inspirational quotes, and debunking diet culture. Follow @foodflowthought on Instagram for a daily dose of food, yoga, and body positivity.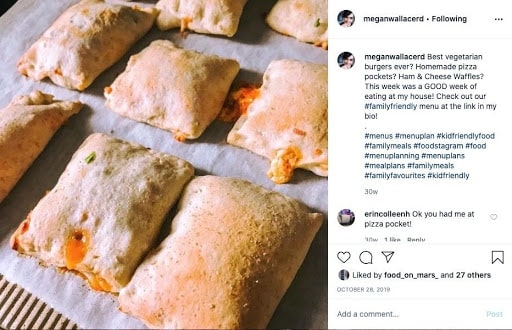 Megan Wallace, Registered Dietitian and owner of Sprout Nutrition, specializes in family-friendly menu planning, along with emotional and intuitive eating. Her Instagram feed is full of body positivity, lifestyle tips and delicious-looking meals that are bound to be devoured by the whole family. Follow @meganwallacerd for an Instagram experience that is good for the whole family.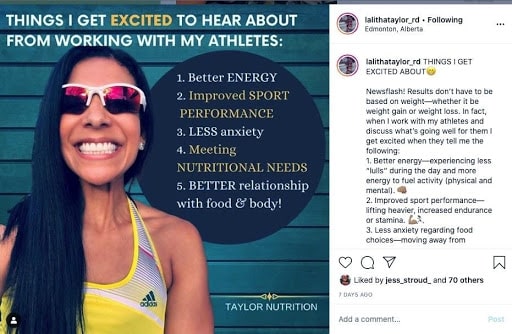 Lalitha Taylor is a Registered Dietitian, owner of Taylor Nutrition, nutrition columnist of CBC Edmonton Radio, not to mention she was named one of Edmonton's Top 40 under 40 by Avenue Edmonton Magazine. Lalitha's Instagram feed is full of inspirational posts, sports nutrition tips and tricks, and information about her upcoming speaking engagements and workshops. Follow @lalithataylor_rd to keep up on the latest in sports nutrition and nutrition in the local media.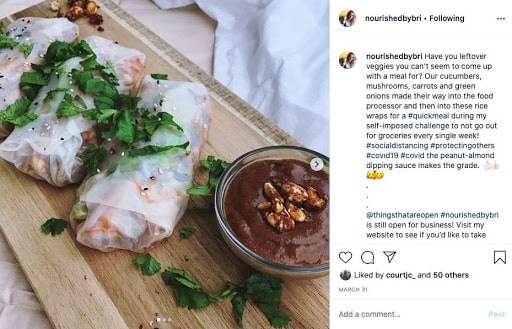 Brianne Meghawache is a Registered Dietitian, owner of Nourished by Bri, and nutrition coach. She is well known for her plant-based approach. Her Instagram feed is packed with nutritious recipes, answers to frequently asked nutrition questions, and a few pics of her very cute son. Learn more about the plant-based lifestyles by following @nourishedbybri on Instagram.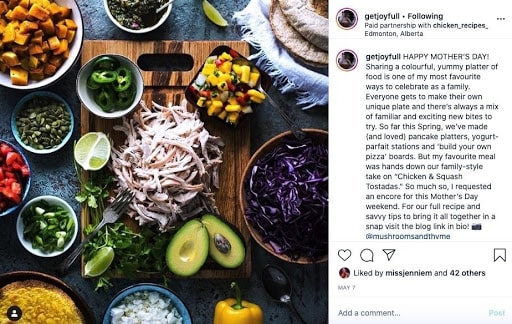 Emily Mardell is a Registered Dietitian and owner of Food First nutrition counselling and founder of GetJoyfull, a movement that aims to reconnect families with the foods they put onto their tables. Emily specializes in family and sports nutrition and also makes regular appearances on both CTV Edmonton and Global Edmonton, sharing tips and recipes featuring local ingredients. Her Instagram feed is a delightful mixture of delicious-looking recipes, tips and tricks, and pics of her and her family living life to its fullest. Follow @getjoyfull for a dose of joy.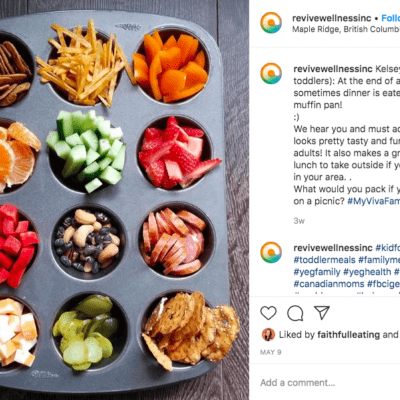 Revive Wellness Dietitians specialize in multiple areas of nutrition including pediatrics, chronic disease, and food relationship. Their Instagram feed delights with motivational messages, recipe ideas, and nutrition tips. Follow at @revivewellnessinc  on Instagram for a dose of inspiration.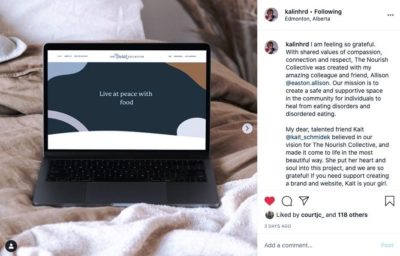 Kalin Herbach, Registered Dietitian and co-founder of The Nourish Collective, has made a name for herself through her weight-inclusive and Health at Every Size (HAES®) approach. Kalin has been in private practice for 5 years and is on a mission to help individuals heal from eating disorders and disordered eating. Her Instagram page is chalked full of beautifully written inspirational messages designed to challenge our views of body acceptance and our relationship with food. Learn more about HAES® on her Instagram page @kalinhrd.
Hanna Deacon –@hd_dietitian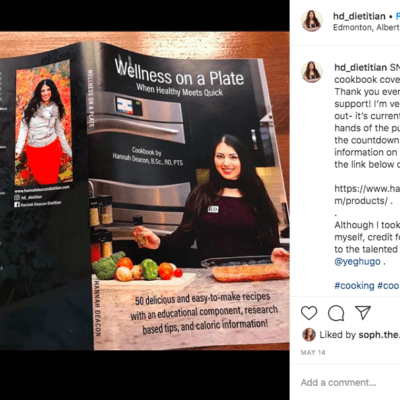 Hannah Deacon is a Registered Dietitian based in Edmonton. She specializes in sports nutrition, and weight loss, and has recently published a cookbook about healthy eating on the go. Learn more about Hannah Deacon, and her recipes at @hd_dietitian on Instagram