Top 10 Canadian Dietitians on Instagram
by Cindy Kwok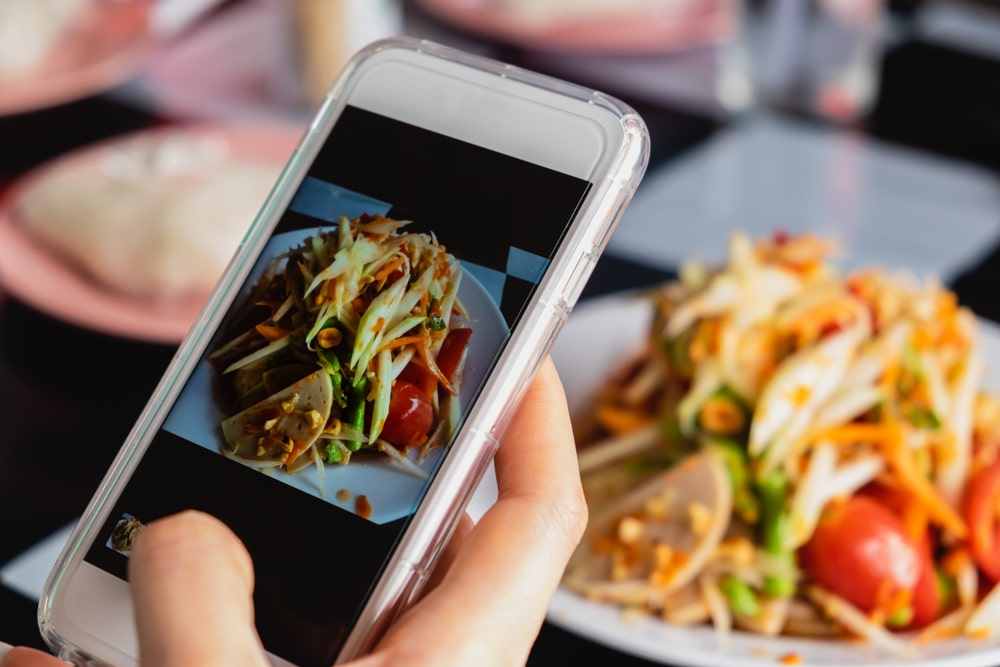 Name your favourite Dietitians on Instagram? If you have your answer, don't tell me yet. If you don't, keep reading!
Whether or not you have a favourite or favourites, following Dietitians on Instagram will be a great place to start your health journey. There are many types of Dietitians working in different areas of dietary expertise, and they will help you to live YOUR life to the fullest.
No matter what you are looking for– new recipes, dealing with fussy eaters or seeking healthier food relationships. We guarantee you that there will be a perfect Dietitian that you can follow on Instagram to help you begin your food journey.
You can count on Registered Dietitians on Instagram to give credible, no-nonsense advice for almost all food-related conundrums. Here's an introductory list of Registered Dietitians that are experts in a variety of practices who are all active on Instagram!
British Columbia
Alexandra Inman, BSc, Registered Dietitian, Owner of Vancouver Dietitians 
More about Alexandra:
Alexandra is a weight-inclusive practitioner. She believes in focusing on health gain rather than weight loss. More importantly, she wants her clients to know that health and wellness are worthwhile goals no matter their body shapes or sizes. Also, she takes great pride in helping her clients ditch dieting. And she encourages the clients to build a positive relationship with food and exercise. To help spread positivity on food relationships, she often shares delicious recipes and yummy food photos to get in touch with her clients. You would not be surprised to see yourself drooling to the yummy food pictures.
Also, Alexandra has a passion for helping people reach their health and wellness goals. Through evidence-based nutrition counselling and education, she works closely with her clients, in real life and on social media like Instagram. She pursues lifelong learning as staying on top of the latest research is crucial to help serve her clients better.
For more content about health gain and not weight loss, make sure to keep up with the Vancouver Dietitians on Instagram for delicious and beautiful looking eats and learn more about their philosophy on Facebook.
More about Desiree: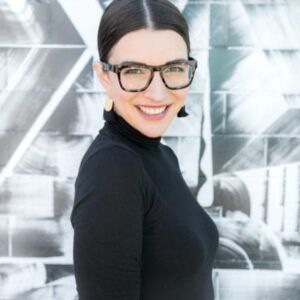 Experienced in digestive health, Desiree provides a full-service consulting practice, from one-to-one nutrition counselling to lunch and learns and brand collaborations. Primarily, she focuses on plant-based nutrition and digestive health. She frequently shares nutritious recipes and food myth posts on her social media like Instagram, so she keeps in touch with recent trends and diets. Within her company, Desiree leads nutrition communications and brand partnerships so she is knowledgeable in the field and in social media as well.
Desiree offers practical nutrition care that works for your lifestyle. In essence, she makes sure it is inclusive of all people and all ways of eating. Moreover, Desiree focuses on positive approaches to nutrition, as she considers culture as well as food relationships. It is especially important to take care of your health and feel good.
To follow along with Desiree's approach, check her out on Instagram.
Alberta
More about Andrea:
Specializing in complex digestive disorders, Andrea is working with patients with IBS, IBD, SIBO, and so much more! She has an amazing team of digestive disorder Dietitians- they're recognized as Canada's largest digestive health practice! Also, she is spreading the knowledge on digestive health along with some tips and tricks on Instagram. Ranging from detox ideas to gut health tips, she works closely with her clients on social media like Instagram too!
Moreover, Andrea and her team really excel in holistic care, focusing on our 4 pillars of digestive health – nutrition management, stress management, medication/supplement management, and the gut microbiome.
To dive deeper into the facts behind complex digestive disorders check out Andrea's Instagram, and if you're wanting to learn more about her and Ignite Nutrition.
Chelsey Love, Registered Dietitian, Owner of Chelsey Love Nutrition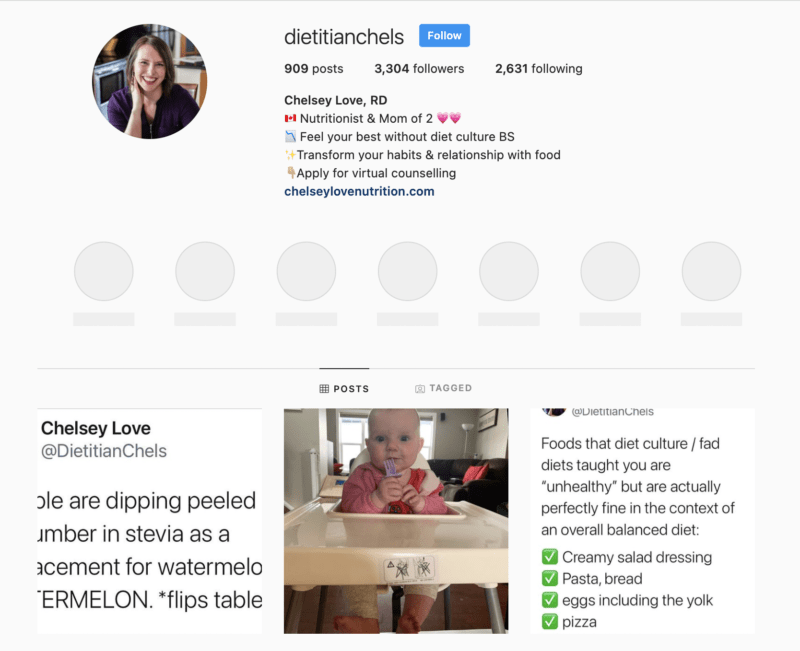 More about Chelsey:
Chelsey is passionate about helping Albertans reach their healthy and happy weight range. And so she shares body-positive messages on Instagram to encourage others. She helps her clients feel fantastic without giving up favourite foods. She works on simplifying nutrition and empowering her clients to make lasting habit changes.
As a busy mom of two, Chelsey truly understands the challenges of putting herself on the priority list. She understands the struggles for body positivity and meal ideas. Hence, she actively shares her meal ideas on Instagram with moms worldwide!
Moreover, she is realistic, empathetic, and is right there along with you. More importantly, she aims for progress – not perfection.
To follow along with Chelsey's life, reject diet culture, and overall bring some positivity to your feed, check her out on Facebook or Instagram.
More about Lindsay: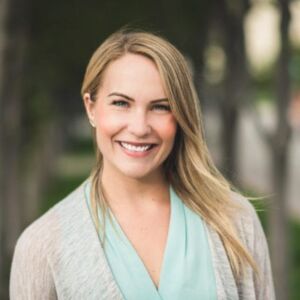 Lindsay is a dietitian on Instagram who shares photos and recipes of her favourite meals, along with quotes about disordered eating and mental health. Lindsay specializes in disordered eating and provides 1:1 virtual nutrition counselling to clients living in Alberta. Her goal is to help clients make food choices without anxiety or guilt. Lindsay supports her clients to take the challenging (and terrifying) steps toward eating disorder recovery.
In one of her posts, Lindsay shares her favourite quote: "A comfort zone is a beautiful place, but nothing ever grows there." You can truly feel the positivity through her Instagram posts.
Check out Lindsay's  Instagram page for satisfying food photos and delicious recipes. You can also visit her website for services and online booking.
Megan Wallace, Registered Dietitian, Owner of Sprout Nutrition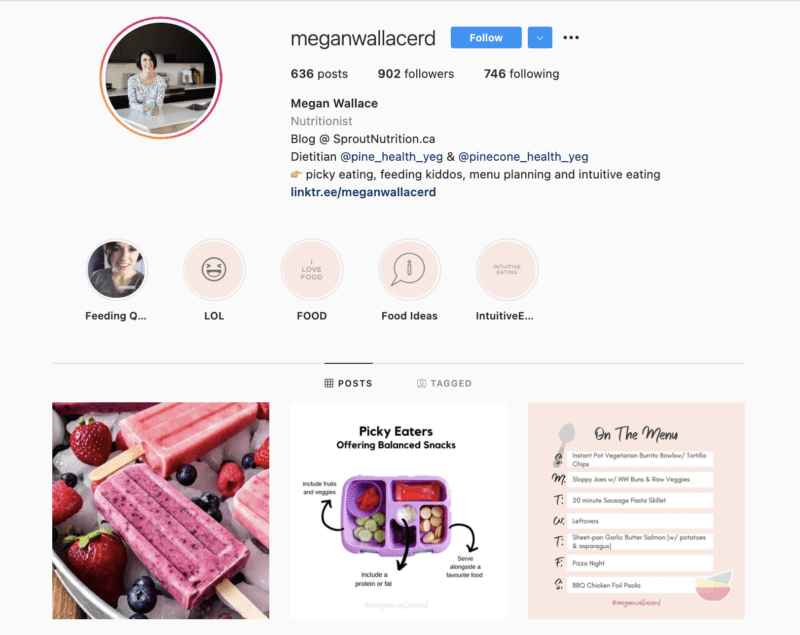 More about Megan:
As an active Pediatric Dietitian on Instagram, Megan constantly shares her work with children on social media. Megan aims at taking the stress out of eating and feeding. She helps to develop her client's curiosity. Especially on why, how, and what they choose to eat. This is done through behaviour change.
As a busy mom of 3 kiddos, Megan knows how hard feeding them can be.  Hence, she is realistic when it comes to healthy eating. Ultimately, her goal is to grant 'permission' on eating and feed and never to chastise.
Help with your little picky eaters can be found on Megan's Facebook! Check out Megan's beautiful Instagram if you need some inspiration for the next family meal.
Saskatchewan
Robyn Price, RD, CBS, Dietitian and Lactation Consultant at The Breastfeeding Dietitian
More about Robyn:
As one of very few Dietitians in the breastfeeding space, Robyn guarantees fresh perspectives on the challenges. Specifically, she helps to breastfeed moms learn how to read and understand their babies. Besides her real-life counselling sessions, she is also available on Instagram to help struggling moms. She actively shares advice and tips on Instagram and other media to support moms on the journey.
Specifically, her work on nurturing breastfeeding behaviours and feeding patterns empowers struggling moms.   In particular, many moms eliminate foods to tame the baby's fussy behaviour. Robyn is knowledgeable in lactation and nutrition, so she is able to tackle the root cause for a solution.
To learn more about tips for successful breastfeeding and to be a part of a safe and encouraging community for moms, make sure to check out The Breastfeeding Dietitian on Facebook and Instagram!
Ontario
Veronica Rouse, MAN, RD, CDE, Dietitian specializing in Heart Health and owner of The Heart Dietitian
 More about Veronica:
Veronica believes that individuals have control over their heart disease by eating well.  So, Veronica provides individuals with straightforward information, she wants to increase their confidence and to improve their health as well.  To do so, she preaches the idea of healthy living and heart health on social media, she wishes to reach people in the virtual world through Instagram.
She understands how overwhelming things can be, so she breaks them down into simple tips and share them on Instagram. Together, Veronica and her clients set realistic goals. It is important to know that she is there to support you through the journey.
Veronica has developed a step-by-step framework to help her clients. Ultimately, she strives to help her clients in living the life that they want with a healthy heart.
To learn more about Veronica, make sure to check out her Facebook page, or her Instagram page for some easy-to-read and informative posts!
New Brunswick
Hannah Magee, RD, Dietitian and owner of Hannah Magee RD
More about Hannah:
Hannah believes all foods can fit into a balanced, healthy lifestyle. She is passionate about nutrition and busting diet myths, so she actively shares relevant information on Instagram and Facebook. Also, she enjoys sharing recipes and meal ideas on Instagram with people around the world. She often delivers her messages humorously to her clients through Instagram and Facebook to support them. She loves helping people explore the joys of eating and living well without rules or restrictions.
Hannah approaches nutrition and wellness with a "no BS" mindset. More importantly, she is not afraid to call out misinformation when she sees it.
Interested in the blogging Hannah does? Check her out on Facebook, and Instagram.
Make sure you check out these Dietitians on Instagram for health tips and inspiration! Want to connect with a Registered Dietitian in your area? A great place to start is on the Dietitian Directory website. Craving some more nutrition-related blog posts and know more about our featured Dietitians? Check out our Instagram for more information!
About the author: Cindy Kwok is currently a second-year student at the University of Alberta studying to become a Registered Dietitian. This article is edited by Trinity Tang, a senior dietetics student studying at New York University.