How Dietitians Don't Ruin Halloween for Their Children
by Lindsey McGregor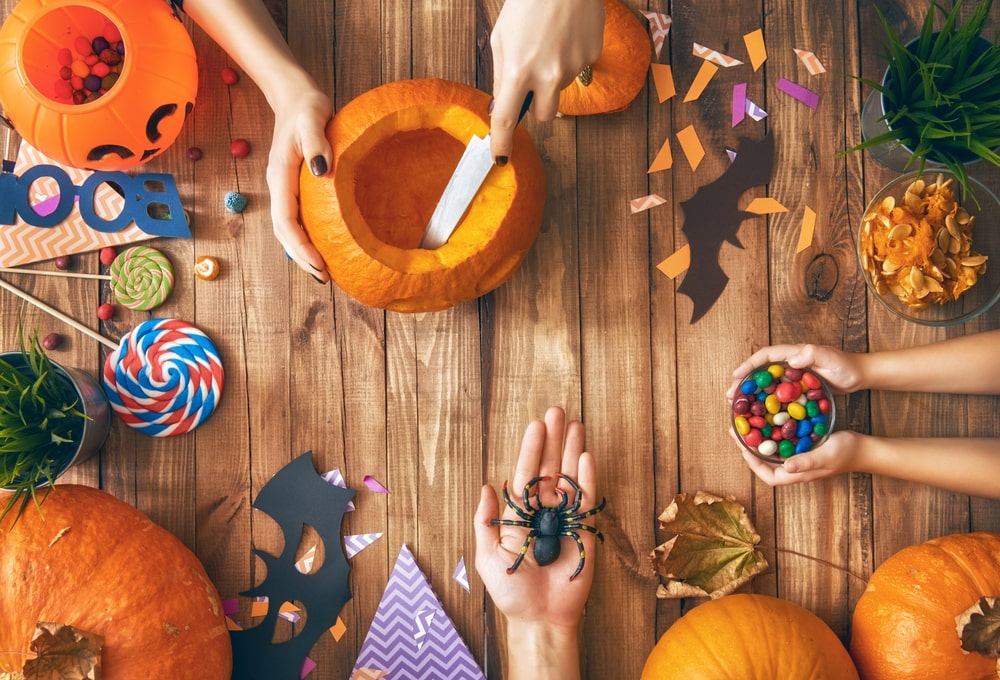 The Dentist Parent, vs. the Dietitian Parent.  It's hard to know which is the worst parent to have when it comes to Halloween. Needless to say, Dietitians do put some extra thought into not ruining Halloween for their children. Here is how some Calgary-based Dietitians deal with the task.
The Switch Which
"When the kids were younger, we did the Switch Witch one week after Halloween to allow them time to enjoy their candy and then get it out of the house. Now we follow Ellyn Satter's method above, and we still have candy from last year in our house!"
– Melissa Conniff, R.D., owner of Calgary Family Nutrition, her practice specializes in pediatric and family nutrition.
Find a Balance
"What do I really do? I feed my kids a warm, balanced meal before they head out for Halloween. Then, when the kids get home, we weigh their loot, which is somewhere between 5 – 8 pounds of candy!!
I then let my kids enjoy their collection that night, eating as much as they want (while I also sample some of my favourite Halloween goodies). In the days ahead, I focus on offering my kids 3 meals and planned snacks with growing foods.
As well I let my kids have their Halloween treats. Their fascination with their candy usually dwindles within a week."
– Kristyn Hall MSc, R.D., Dietitian, Nutritionist and Certified Health and Wellness Coach(R), is a mother of two teen and tween boys and runs her own business Energize Nutrition specializing in nutrition for people 40 years and beyond. 
Encourage Kids to Listen to Their Bodies
"We don't want candy to become a "forbidden fruit" for our kids, holding more power over them later in life than it deserves, so we let them eat what they like on Halloween and over the next few days.
Then we let them stash it in a bag in the front closet and dig into it on Wednesdays after dinner. (Hump day is candy day at our house.) Again, there aren't any firm rules about how much, but we do sometimes coach them to listen to their bodies and remind them that it will be there next week. There is still candy in the bags from last year!"
– Cheryl Strachan, R.D., is a Calgary Based Dietitian specializing in cardiac nutrition and wellness. More information can be found about her practice, Sweet Spot Nutrition
Set Ground Rules
"I am a fan of allowing kids (including my son) the chance to manage their stash with some well-set out ground rules about when. Tell kids they are able to enjoy Halloween candy after meals. If they can follow the rules, then they get to manage the stash; if they don't, and you find them grazing on candy before meals (which will impact their appetite for healthy meals), then you get to manage the stash.
Again, observe how much they consume without making any comments or providing them with any rules since you might be surprised how many kids self-moderate and eat only a few pieces.
If you notice your child continues to inhale about half a dozen at a time, ask them to pick one more of their top choices and remind them that the stash will be there tomorrow to enjoy again."
– Andrea Holwegner R.D., "The Chocoholic Nutritionist" and Registered Dietitian Practice Director from The Health Stand Nutrition Dietitian Team
"My kids can't WAIT for Halloween. How much fun is it to dress up and go door-to-door for a free candy overload!?
I too remember the excitement of going from house to house, hoping for as many full-sized chocolate bars as possible. But now as parents, I know many of us to dread letting our kids eat a pillowcase full of sugar and food coloring.
As for how to dole out these treats? It's best to let your kid choose how much to eat within some guidelines. This approach helps to prevent creating an unhealthy relationship with sweets by making sweets the coveted forbidden food.
If you follow feeding guru Ellyn Satter's advice, she suggests letting your child gorge on Halloween night, and the day after, and then offering the candy only at meal and snack times.
She suggests offering 1-2 small pieces with a meal, and then letting your child choose how much to eat at snacks (but still offering other foods, of course). Besides giving your child some control over how much they eat, the candy will be gone more quickly!"
– Jennifer House MSc, RD First Step Nutrition
What are some healthy Halloween foods you can make with kids?
Stir up a "witches brew". Add fresh or frozen blueberries into oatmeal while cooking to make "purple porridge". Use a meatball/melon baller to scoop out honeydew melon pieces to make "green eyeballs" to add to the top.
Peel mandarin oranges and place a small cut piece of celery or peeled cucumber in the middle to look like a pumpkin.
Make "witches fingers" by buying small farmers market fresh carrots and placing a bit of nut butter on the end to stick on a flat sliced almond.
Peel and cut bananas in half and place on popsicle sticks if desired. Push in raisins to make eyes and a mouth to look like ghosts.
Make a green "witches drink" by creating a smoothie in the blender with frozen mango, fresh/frozen/canned pineapple, apple/mango juice, and fresh kale. Try this Green Smoothie Recipe.
Bake pumpkin muffins and add spooky cupcake tags or Halloween stickers on toothpicks to decorate. Try this Pumpkin Muffin Recipe.
As you can see, there are lots of ways to enjoy Halloween candy without getting off balance (too much!). Use these tactics to teach kids that candy is just one of many enjoyable Halloween foods.