Featuring 6 Dietitians in the "6" (Toronto)
by Nichole Olivieri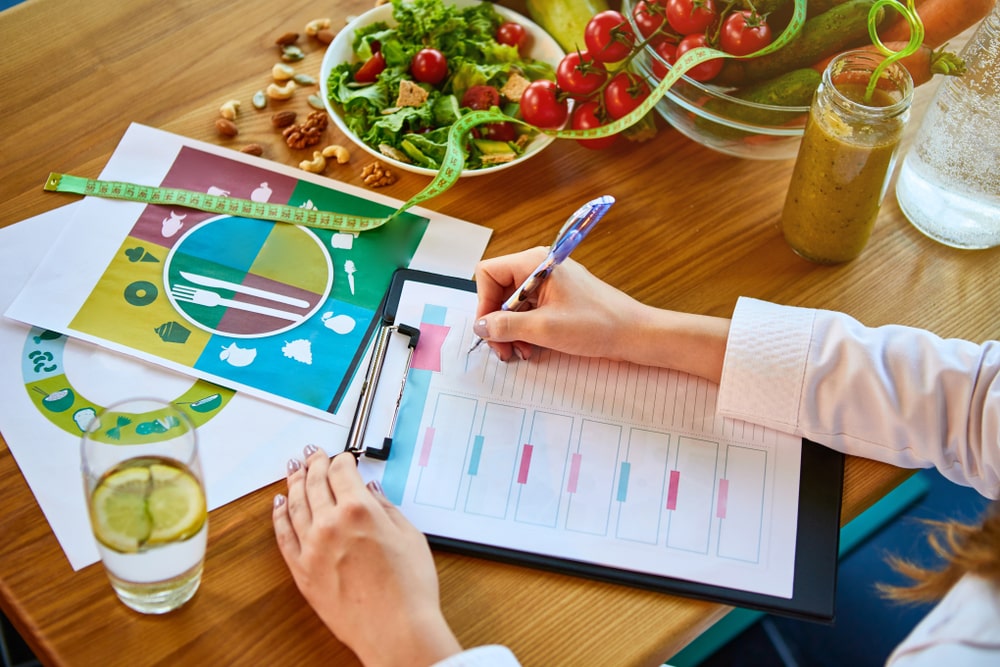 Are you curious about what Dietitians in Toronto eat daily? Kale salad? Smoothie Bowl?
These guesses are far from the truth. In fact, our Torontonian Dietitians love the cuisines that your heart desires as much as you do! From Bibimbap to Jerk Chicken, the list goes on and on…
Toronto is arguably the most multicultural city in the world with people from all around the world, such diversity extends to the Dietitians who call Toronto home. We've gone through the hustle and bustle of this big city and saved you from the work by finding them for you. Read on for the 6 of the Top Dietitians in Toronto!
Featuring 6 Dietitians in the 6 (Toronto)
The Anti-Diet Dietitians
Danica Jacobs, MAN, RD, Registered Dietitian and Owner of Danica Jacobs Nutrition
As a non-diet dietitian in Toronto, Danica helps women break up with diet culture. Also, she aims at helping her clients to live without food guilt. Also, she offers nutrition counselling sessions where she provides care and support to her clients for overall health and wellbeing. Influenced by the diverse culture in Toronto, she serves her clients from all backgrounds with understanding and patience. Uniquely, she emphasizes to her clients her expertise in non-diet nutrition to support body positivity to help them thrive in this vibrant city here in Toronto!
As a Dietitian in Toronto, Danica feels obliged to help women in thriving in this big city. She understands the pressures women face to eat and look a certain way. As a fellow millennial, Danica also knows how fed up women are with these judgemental comments and expectations. Driven by the socially progressive culture of Toronto she wishes to help women break free from this pressure. More essentially, she wishes to help her clients reclaim their time, energy, and peace.
Get to know Danica and her food relationship coach tips over on her Instagram.
Olivia Cupido, RD, MHSc, Registered Dietitian, Owner of OG Nutrition
Living in Toronto, Olivia sees the struggles that her clients have with food. So, she passionately helps her clients become friends with food. Olivia wants to help you find your inner intuitive eater, to ultimately find satisfaction in foods again. Especially when there are so many mouth-watering cuisines in Toronto, she wants her clients to enjoy the life they deserved. Moreover, Olivia helps guide her clients through all the available nutrition knowledge and find strategies that work for them.
During her consultations, Olivia learns about her clients deeply to provide realistic strategies. Ultimately, she wants to guide you to your goals so that you can live your dream life in Toronto. Each time she works with clients, Olivia encourages her clients to learn why they eat and how they eat. She aims at providing ongoing support to her clients to help them to thrive on their journey in life and here in Toronto.
Check out Olivia's work on her Instagram page.
The Dietitians in Toronto with Specific Expertise
Emily Campbell, RD, CDE, MScFN, Dietitian at Kidney Nutrition
As a Dietitian living in Toronto, Emily is fascinated by the diverse cuisines and she works closely with her clients on modifying the recipes to make them nutritious. As a kidney nutrition Dietitian, she truly understands the struggles of learning about it with a busy life in Toronto. Hence, Emily helps to make kidney nutrition easy to understand in a step-by-step manner. The main focus is for her to teach the clients how to make DELICIOUS foods that are both nutritious and kidney-friendly!
She works with clients to support them on this transition and journey by understanding their eating habits and providing personalized recommendations. Such a holistic approach is also signifying the true beauty of Toronto– the diversity, it truly makes her treatment approach pluralistic!
To see more of Emily's work check out her Instagram and follow along!
Jackie Silver, MHSc, RD, Owner of Jackie Silver Nutrition Specializing in Wellness for People with Disabilities.
Being a passionate Dietitian in Toronto, Jackie focuses on promoting wellness to people with disabilities. She works with clients with physical and intellectual disabilities. Also, she helps with chronic disease management (diabetes, high cholesterol, etc.). As a caring Dietitian, she also works on giving meal planning advice to her clients. Moreover, she uses mindful eating techniques to help clients manage weight (and more). Ultimately, she aims at supporting her clients through their health journey. ⁠
Her niche is very unique, in fact she does not know of anyone else doing it. Therefore, this makes her one of the few wellness Dietitian in Toronto who is concentrating in this area. The disability community is an underserved population when it comes to nutrition. And as a health professional, she wants to serve this population with her knowledge. Also, she has additional training in MBEAT (mindfulness-based eating awareness training) which is unique from other Dietitians in Toronto and she incorporates its tools and techniques into her counselling.
Check out Jackie's podcast interview on the Adaptdefy podcast,  or on her  Facebook page or learn more about her work on her Instagram page.
Sana Motlekar, RD, PCOS Weight Loss Dietitian works in the areas of PCOS, diabetes, and blood sugar.
Working as a Dietitian in Toronto, Sana witnesses people's struggles with chronic diseases. To help tackle these long-term diseases, Sana specializes in weight management and hormones to address the root of the problem. To do so, she crafts personalized plans based on your lab values and symptoms and health goals. As she knows that people are very busy in Toronto, she wants to make her recommendations light and simple to follow.  Her approach is very holistic just like the Torontonian culture and she takes into account your emotional and mental health.
Furthermore, as a Dietitian in Toronto, she is well versed in various cultural foods (South Asian, Persian, Middle Eastern, etc). Undoubtedly, Sana will teach you how to include your favourite foods into your healthy eating lifestyle to live healthily.
Learn more about Sana and her work by checking out her Instagram page!
Veronica Rouse, MAN, RD, CDE, Dietitian specializing in Heart Health and owner of The Heart Dietitian
As a heart health expert, Veronica believes that individuals have control over their heart disease by eating well.  As a Dietitian in Toronto, living in this hustle and bustle city, Veronica provides individuals with straightforward information to help them save time on learning.  Also, she wants to increase her client's confidence and to improve her client's health as well so that they can enjoy their wonderful lives in  Toronto.  Hence, she preaches the idea of healthy living and heart health on social media, she is not only a Dietitian in Toronto but also a media influencer, she wishes to reach people in all ways possible to help them on their journey to health.
Moreover, she understands how overwhelming things can be, so she breaks them down into simple readings and tips to save time for busy Torontonians. Together, Veronica and her clients set realistic goals. It is important to know that she is there to support you through the journey. Ultimately, she strives to help her clients in living the life that they want with a healthy heart.
To learn more about Veronica, make sure to check out her Facebook page, or her Instagram page for some easy-to-read and informative posts!
No matter your tastes, you will find a Dietitian in the Toronto area that matches your personal needs – may be even one from this list!
Want to learn more about Canadian Dietitians in a wide variety of practice areas? Check out the Dietitian Directory website. Craving some more nutrition-related blog posts and know more about our featured Dietitians? Check out our Instagram for more information!
About the author: Nichole Olivieri is a student studying to become a Dietitian at the University of Alberta. This article is edited by Trinity Tang, a senior dietetics student studying at New York University.