Dietitian vs. Nutritionist – What's the Difference in the USA?
by Monique Thomas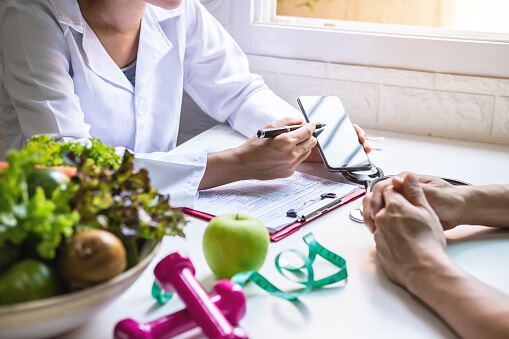 Ever wonder about the difference between a Dietitian vs. a Nutritionist in America?
Dietitian vs. Nutritionist?
It's all about something called a protected title. In America, "Registered Dietitian Nutritionist (RDN)" and "Registered Dietitian (RD)" are protected titles.
A protected title helps the public identify qualified health care professionals. For example, not just anyone can call themselves a Medical Doctor, Pharmacist, or Nurse. 
Not just anyone can call themselves a Dietitian. In America, they must have the following qualifications to qualify:
Complete a 4-year bachelor's degree with a specialization in human nutrition. There is also a

master's degree

route to become an RD which is very common in parts of the country, in which case either degree might be in any subject, as long as the student fulfills all the requirements to become an RD.  

 Complete

1,200 hours

of supervised practice via an Accreditation Council for Education in Nutrition and Dietetics (ACEND) accredited Dietetic Internship, Coordinated Program in Dietetics, or an Individualized Supervised Practice Pathway (ISPP) offered through an ACEND-accredited program

As of

2024

, all new RDs will have to obtain a master's degree to sit for the registration exam. The degree doesn't have to be nutrition-specific as long as the CDR requirements are met.

Pass

a national registration exam administered by the Commission on Dietetic Registration (CDR), AND's credentialing agency

If you're unsure, look for RD or RDN behind the professional's name
What about the term Nutritionist? Is that a protected title too?
In certain states, Nutritionist is a protected title. People with a nutrition background who aren't members of the regulatory body in those states cannot use the title Nutritionist. In other words, if you are not a Dietitian, you can't be a Nutritionist either in these states. 
Some other common protected titles in the USA include licenced dietitian/nutritionist (LD/LN), certified dietitian (CD), and nutrition counsellor. 
Click here to see which titles are protected in your state.
What about other terms?
Terms such as Nutritional Consultant or Nutrition Coach refer to those who do not have the same education and training as Dietitians.
Dietitian vs. Nutritionist: Education Requirements
What type of education does a Dietitian have?
To begin with, in the United States, Dietitians complete a bachelor's or master's degree and coursework in human nutrition and dietetics from an accredited university program, a 1200-hour internship program, and a licensing exam. Regional Colleges accredit their Dietitians and make them regulated health professionals who are legally responsible for the advice they give.
Accordingly, these qualifications enable Dietitians to work in hospitals, schools, restaurants, government policy, long-term care facilities, and private practice.
What type of education does a Nutrition Consultant or Nutrition Coach have?
Terms such as Nutritional Consultant or Nutrition Coach refer to those who do not have the same education and training as Dietitians.
Nutrition Consultants and Coaches can have varying levels of education.
For example, some may have a general nutrition degree without a Dietetics program or specialization. Others may have taken a few nutrition courses in university/college or have received a certificate from a private online certification program.
Nutrition Consultants and Coaches may have trained in different approaches than Dietitians, emphasising supplements or Eastern Medicine methods such as acupuncture or Chinese herbal medicine.
Nutritional Consultants and Coaches do not need to have completed an accredited program with a college/university and are not part of a regulated college.
What does a Dietitian do?
According to the Academy of Nutrition and Dietetics, "A Registered Dietitian, or RD, also known as a Registered Dietitian nutritionist, or RDN, will partner with you to develop a safe and realistic eating plan that you can stick with for the long haul. To guide and motivate you, an RD or RDN will use creative and out-of-the-box strategies to help with meal planning, grocery shopping and mindful eating." (Academy of Nutrition and Dietetics)
What can a Dietitian do for you?
There are plenty of reasons that you may want to see a Dietitian. For instance, if you would like to improve your eating habits, positively change your relationship with food, or learn more about sports nutrition, it may benefit you to meet with a Dietitian!
If you would like to learn about emotional eating, intuitive eating, ideal food timing, digestive health, or how to manage a health condition, such as irritable bowel syndrome, celiac disease, PCOS, or food allergies/intolerances then Dietitians are your go-to!
Additionally, since Dietitians are regulated health professionals, you may be able to use your health insurance benefits to cover their services.
Medicare and other insurance providers may cover visits to RDs/RDNs for certain health conditions. Medicare allows doctors, nurses, and psychologists to refer patients for medical nutrition therapy by RDs/RDNs under certain circumstances.
Dietitians are not the Food Police!
Dietitians look at your unique nutrition needs or desires and give suggestions based on your personal likes and dislikes. They work collaboratively with patients or clients to determine what works best for them with regard to their lifestyle, personal preferences, ethnicity, budget, and other factors that are unique to each individual.
For example, Dietitians won't ask you to give up cake if you really enjoy it since many Dietitians believe that all foods fit into a healthy eating pattern!
Also, Dietitians answer your questions and provide education based on client-led sessions, this means that the client will be leading the majority of the session.
Most importantly, Dietitians will not tell you what to do since you are the expert on your own body!
The Bottom Line?
Confusing… we hear you!
In some states, the term Nutritionist is a protected title, and hence, not just anyone from any background can use such terms. In these states, a Nutritionist will have the same education as an RD.
In other states, you will want to inquire about your Nutritionists education and qualifications prior to receiving services.
The key point here is that Nutritionists who qualify as Dietitians will have the credentials RD or RDN  behind their names.
Dietitian vs. Nutritionist: Who Should You Choose?

Dietitians are the experts in nutrition for Americans. In America, Dietitians provide evidence-based information while tailoring it to your needs.
Services provided by Dietitians can sometimes be covered by benefits so make sure to ask your benefits provider if they cover nutrition consults by Dietitians.
About the Author: Monique Thomas earned her Bachelor of Science in Food and Nutrition with a minor in English from Framingham State University in Framingham, MA, USA. She is working towards her master's degree and plans to become a registered dietitian, food scientist, and writer. Her interests are in food and nutrition regulatory affairs, autoimmune health, cardiovascular health, food allergies and sensitivities.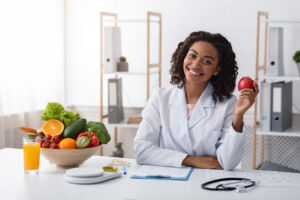 Reviewed by: Lindsey McGregor, RD and    Hannah Jackson
The Site is not intended to be a substitute for professional advice. Under no circumstances will we be liable for any loss or damage caused by your reliance on information obtained through the Site. It is your responsibility to evaluate the accuracy, completeness or usefulness of any information, opinion, advice or other content available through the Site. Please seek the advice of professionals, as appropriate, regarding the evaluation of any specific information, opinion, advice or other content. Never disregard professional advice, including medical advice, or delay in seeking it, because of something you have read on this Site.