Dietitian vs. Nutritionist – What's the Difference in Canada?
by Gurveen Jaggi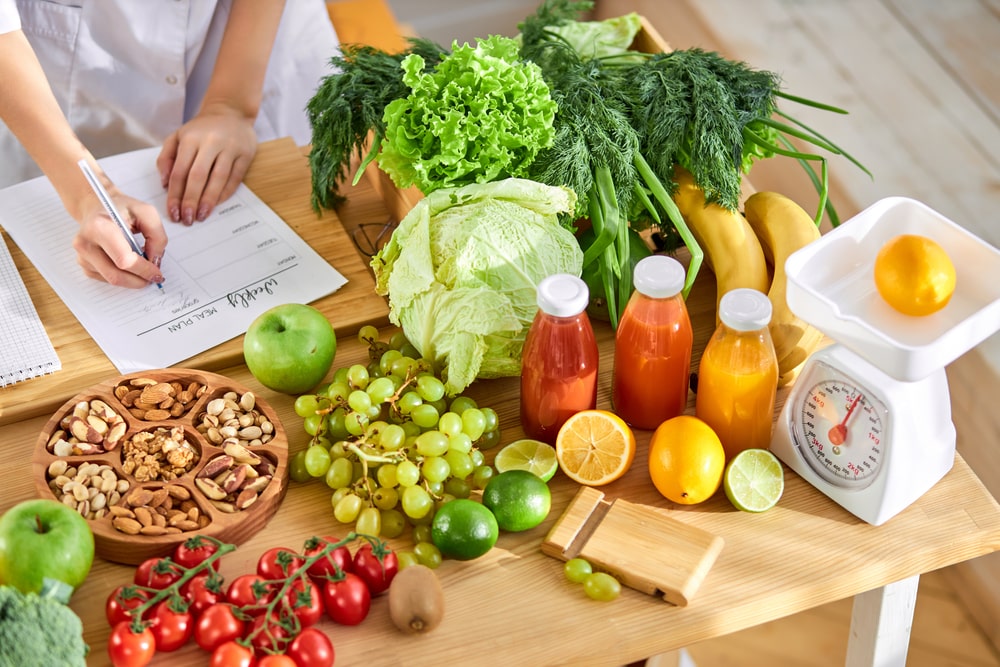 Ever wonder about the difference between a Dietitian vs. a Nutritionist in Canada?
Dietitian vs. Nutritionist?
It's all about something called a protected-title. A protected-title helps the public identify qualified health care professionals. For example, not just anyone can call themselves a Medical Doctor, Pharmacist, or Nurse. 
In Canada, "Dietitian," and "Registered Dietitian," are protected-titles.
Moreover, not just anyone can call themselves a Dietitian. In Canada, the terms Dietitian and Registered Dietitian (RD) are protected-titles, meaning that only people who have the following qualifications can call themselves one.
Complete a 4-year bachelor's degree with a specialization in human nutrition. There is also a master's degree route to become an RD which is very common in parts of the country, in which case the bachelor's degree might be in any subject, but the master's degree will be specific to nutrition.

Pass a national registration exam.

Complete a 1-year internship with rotations in hospital, community, clinical, and foodservice settings.

Meet annual continuing education requirements.

If you're unsure, look for RD, RDN, or Dt. P (French) behind a name and check with the College of Dietitians of your province to verify they are registered.
What about the term Nutritionist? Is that a protected-title too?
In Nova Scotia, Quebec and Alberta, Nutritionist is a protected title. People with a nutrition background who aren't members of the regulatory body in those provinces cannot use the title Nutritionist. In other words, if you are not a Dietitian, you can't be a Nutritionist either in Nova Scotia, Quebec, or Alberta.
In all other provinces and territories, Nutritionist is not a protected title. Anyone could legally call themselves a Nutritionist without reliable qualifications.
What about other terms?
Terms such as Nutritional Consultant or Nutrition Coach refer to those who do not have the same education and training as Dietitians.
Dietitian vs. Nutritionist: Education Requirements
What type of education does a Dietitian have?
To begin with, in Canada, Dietitians complete a degree in human nutrition and dietetics from an accredited university program, a 35-40 week internship program or master's degree, and a licensing exam. Regional Colleges accredit their Dietitians and make them regulated health professionals who are legally responsible for advice they give.
Accordingly, these qualifications enable Dietitians to work in hospitals, schools, restaurants, government policy, long-term care facilities, and private practice.
What type of education does a Nutritionist have?
Which province in Canada you are in determines the type of education your Nutritionist has.
Confusing… we hear you!
In places like Nova Scotia, Quebec and Alberta, the term Nutritionist is a protected title, and hence, not just anyone from any background can use such terms. In these provinces, a Nutritionist will have the same education as an RD.
In other provinces and territories, you will want to inquire about your Nutritionists education and qualifications prior to receiving services.
To clear-up this confusion, Nutritionists who qualify as Dietitians will have the credentials RD, RDN, or Dt. P (French) behind their names.
What type of education does a Nutrition Consultant or Nutrition Coach have?
Terms such as Nutritional Consultant or Nutrition Coach refer to those who do not have the same education and training as Dietitians.
Nutrition Consultants and Coaches can have varying levels of education.
For example, some may have a general nutrition degree without a Dietetics program or specialization. Others may have taken a few nutrition courses in university/college or have received a certificate from a private online certification program.
Nutrition Consultants and Coaches may have trained in different approaches than Dietitians, emphasizing supplements or Eastern Medicine methods such as acupuncture or Chinese herbal medicine.
Nutritional Consultants and Coaches do not need to have completed an accredited program with a college/university and are not part of a regulated college.
What does a Dietitian do?
According to Dietitians of Canada "Dietitians empower their patients, clients, and communities to embrace food, to understand it, and to enjoy it. The advice and information they provide is tailored to their clients and patients personal needs and challenges, including taste and accessibility. They translate the science of nutrition into terms everyone can understand to support healthy living for all Canadians." (Dietitians of Canada)
What can a Dietitian do for you?
There are plenty of reasons that you may want to see a Dietitian. For instance, if you would like to improve your eating habits, positively change your relationship with food, or learn more about sports nutrition, it may benefit you to meet with a Dietitian!
Moreover, if you would like to learn about emotional eating, intuitive eating, ideal food timing, digestive health, or how to manage a health condition, such as irritable bowel syndrome, celiac disease, PCOS, or food allergies/intolerances then Dietitians are your go-to!
Additionally, since Dietitians are regulated health professionals, you can use your benefits to cover their services.
Many of the services Dietitians offer are free via provincial health services such as Alberta Health Services!
Dietitians are not the Food Police!
Dietitians look at your unique nutrition needs or desires, and give suggestions based on your personal likes and dislikes. They work collaboratively with patients or clients to determine what works best for them with regard to their lifestyle, personal preferences, ethnicity, budget, and other factors that are unique to each individual.
For example, Dietitians won't ask you to give up cake if you really enjoy it since many Dietitians believe that all foods fit into a healthy eating pattern!
Also, Dietitians answer your questions and provide education based on client-led sessions, this means that the client will be leading the majority of the session.
Most importantly, Dietitians will not tell you what to do since you are the expert on your own body!
Dietitian vs. Nutritionist: Who Should You Choose?
Dietitians are the experts in nutrition for Canadians. In Canada Dietitians provide you with evidence-based information while tailoring it to your needs.
Services provided by Dietitians are often covered by benefits so make sure to ask your benefits provider if they cover nutrition consults by Dietitians.