8 Easy Ways to Incorporate Oats Into Your Breakfast!
by Elora Rider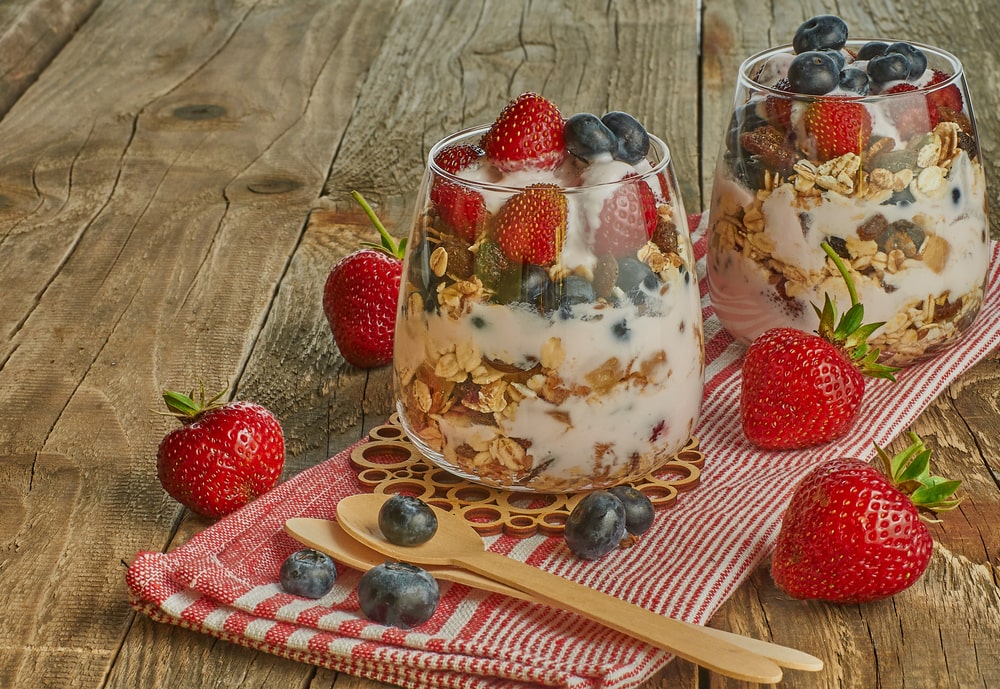 Oats are an excellent source of fibre and can be a great addition to the diet of anyone looking to increase their fibre intake. They are particularly high in a fibre called beta-glucan, a super heart healthy fibre that helps us lower our LDL cholesterol levels.
Canada produced over 4 million tonnes of oats in 2019 and Alberta was a major contributor to this yield. When trying to support local businesses and farmers it can be hard to know what to buy. The good news is we can feel quite comfortable purchasing many different types of grains as Alberta is a massive producer of grain products, including… you guessed it, oats!
You can learn more about grain production in Canada and Alberta here.
8 Easy and Delicious Oat Recipes
Here are a few ways to sweeten up your morning oatmeal and make it feel like you're having a delightful dessert every morning, while still feeling like you're making a healthy choice!
Overnight Oats
This one is for anyone who struggles to find time for breakfast! You can quickly prepare your oats the night before and then wake-up to a delicious and dessert-like ready-to-go meal. Even better, the recipe is easily altered so you can always change it up and keep your taste buds excited. From pumpkin pie flavoured to blueberry lemon cheesecake, boring morning oatmeal is no more.
Overnight oats are also a great way to get the kids involved in their food preparation! They love the different options they have, from the variety of fruits to choosing between honey or agave. If you want a more pudding-like consistency, then adding chia seeds and a little extra of whatever milk you prefer will deliver just that.
Here is a delightful pumpkin pie overnight oat recipe to try out.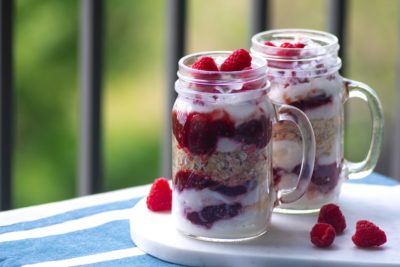 No-Bake Peanut Butter Energy Balls
Who likes cookie dough? These delicious little bites have a similar taste and texture to the peanut butter cookie dough you snuck out of grandma's bowl while helping her bake on the weekend. They make for a quick and easy breakfast or a tasty afternoon snack! They are packed full of flavour and can be easily modified to create different versions.
These energy bites are high in fibre and contain protein to help you feel full. Energy bites are a great addition to any athletes diet as well, as they are so easy to grab and eat before practice.
They may be a little messy to make but they are worth the effort.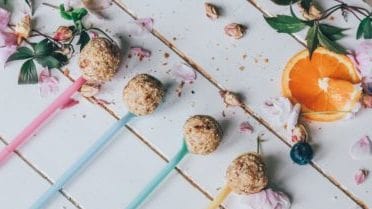 Banana Bread Baked Oatmeal
This breakfast option will keep your sweet-tooth and hunger satisfied, at least for a few hours! It is moist, delicious, and helps make any morning feel like a special occasion. My grandma has used this recipe for the last few years as a special breakfast when the family gets together. She also bakes a little extra for the grandkids to freeze so that they can have an easy breakfast for school mornings.
Everyone loves it and like any other banana bread it can be topped with a variety of nut butters, jellies, cream cheeses, and of course regular ol' butter! It pairs so beautifully with a glass of cold milk and really is just the best way to start the day. Check out this amazing banana bread baked oatmeal recipe.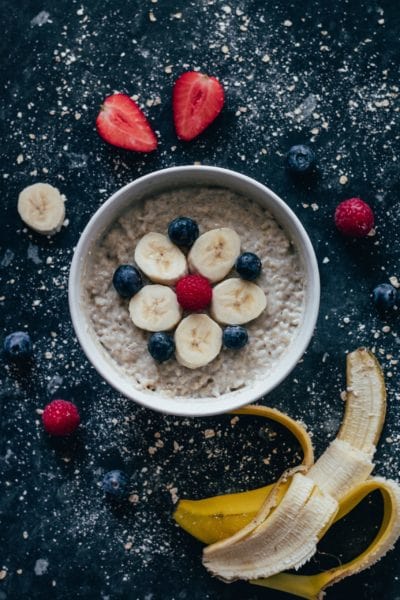 Carrot Cake Oatmeal Cookies
This recipe is a hit year-round but is particularly enjoyed in the fall! The spices fit perfectly with the crisp morning air. These cookies are so soft, and the maple syrup adds just the right amount of sweetness.
My family loves carrot cake and these cookies are polished off within 2 days! They can be topped with a little cream cheese too, if you really want to tickle your taste buds.
Try out this tasty breakfast treat recipe here.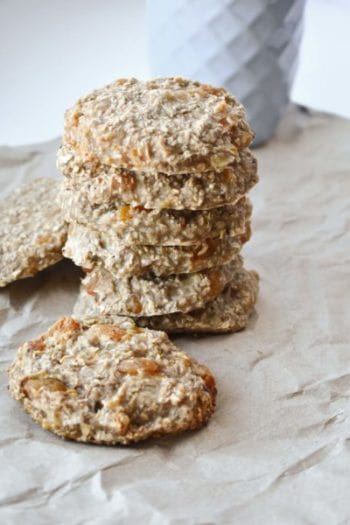 Oatmeal Cookie Breakfast Smoothie
Get rid of that boring morning smoothie and replace it with a high fibre, frothy, creamy treat!
This smoothie tastes like a hearty oatmeal cookie with a delicious note of banana. The smoothie takes advantage of those browning bananas as they sit on your counter begging to be turned into something tasty.
You can top with different nuts to add a lovely crunch and even more flavour. This is the type of smoothie you never get bored of and would be an excellent addition to the breakfast roster or as an afternoon snack.
Try out this delicious smoothie recipe.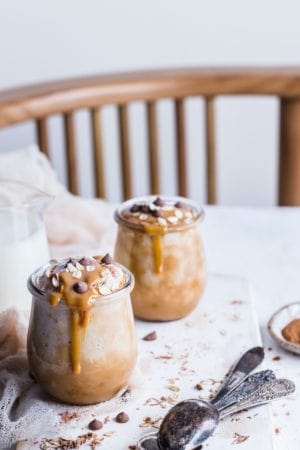 Breakfast Cookies
These cookies are so incredibly delicious. I have used them many times to replace my morning cereal! My family enjoys them on a busy morning because they are so easy to grab and go. Personally, I like to warm them up, then break them up into a cereal bowl and add some milk.
Talk about an incredible breakfast experience. The flavours of peanut butter and chocolate satisfy almost any craving and allow you to start your morning with a little bliss.
Give this cookie recipe a try.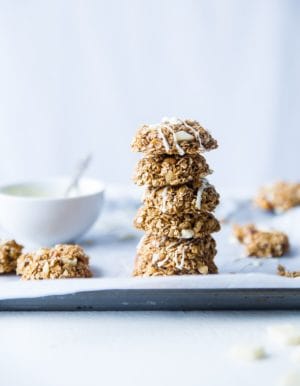 Customizable Oatmeal Muffins
I know you were waiting for this one! Everyone loves a muffin in the morning, but so many of them are more like a small cake nowadays and are missing that healthy breakfast feel.
Not only are these muffins delicious but they are also chocked full of fibre. The fibre comes from not only the oats but also whichever fruits and nuts you may add. The best part of this recipe is making these muffins can be such a fun experience for the whole family.
Everyone can add their favourite ingredients and toppings for a personalized breakfast treat. From blueberries to chocolate chips to walnuts, the possibilities are endless. These can also be paired with any nut butter, jelly, cream cheese or of course regular butter.
Muffins are such a quick and easy way to start the day. Here is a great recipe to try!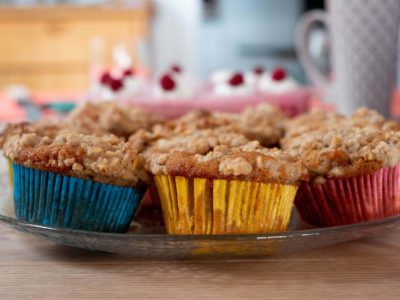 Banana Bread Oatmeal
Now I know it may seem like I am all about ways to avoid a bowl of plain oats, but that's just because it seems difficult to find a way to make a bowl of oatmeal exciting. Banana bread oatmeal is one of the few ways I have found to make my morning bowl of oats incredibly delightful.
The nut toppings are a must as they add such an enjoyable crunch. You can try different milks and see which creamy flavour you enjoy best. This recipe calls for fresh banana and let me tell you, it does not fail to impress!
Try out this recipe if you are ready to try an incredible bowl of oats.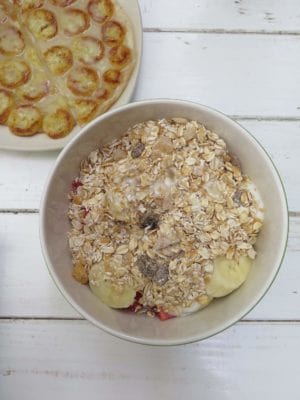 Making healthy food choices doesn't have to be hard. Eating oats for breakfast is a great way to start your day. Whether you are searching for a healthy morning meal you can enjoy or you're simply bored of your regular morning oatmeal, be sure to give these delicious recipes a try!
About the Authors: Elora Rider is a Dietitian student at the University of Alberta, and Carrie Mullin Innes, MSc, RD, IOC Dip Sports Nutritionist who owns her own sports nutrition practice in Calgary.