5 Ways to Enjoy Fall Fruits and Vegetables
by Lindsey McGregor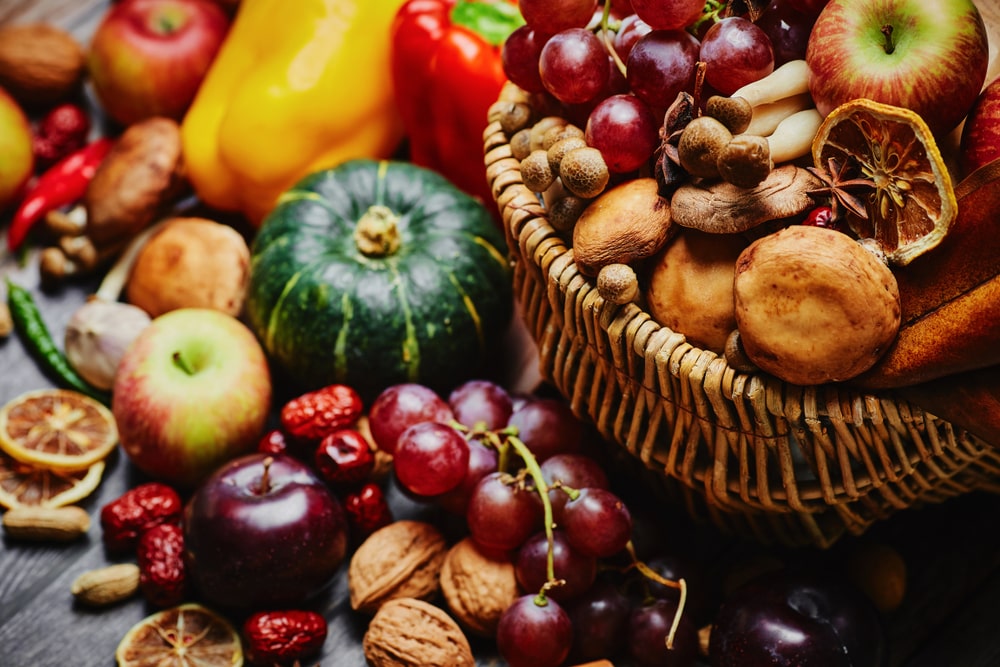 It's that time of year when the days get shorter, and the food gets warmer. Here are 5 ways to enjoy Fall Fruits and Vegetables from Calgary Dietitians.
1. One of the best ways to approach meal planning is to LET THE VEGETABLES DRIVE DINNER. While many people decide on a weekly menu based on the protein they want to have, such as chicken, salmon, or tofu and then pair this with grain and vegetables, try starting with the vegetable first. This style of meal planning allows you to utilize the best seasonal items at the market and minimizes food waste since you will be thinking about weekly meal planning in order of which vegetable needs to be used first. Try our 18 Ways to Enjoy Apples, Oranges, and Pears, and for dessert or your kid's lunch box, grab our recipe for Whole Wheat Pumpkin Chocolate Chip Cookies. – Andrea Holwegner, "The Chocoholic Nutritionist" and Registered Dietitian Practice Director from The Health Stand Nutrition Dietitian Team at www.HealthStandNutrition.com
2. Make muffins with them! We enjoy zucchini and pumpkin muffins every fall. Make large batches and freeze them for easy school or pre-activity snacks. You can also shred the remaining zucchini and freeze it in Ziploc bags to use later. – Melissa Conniff, R.D., owner of Calgary Family Nutrition, her practice specializes in pediatric and family nutrition.
3. We routinely buy a big box of apples from the Farmer's Market. We enjoy apples in many ways including, sliced up with almond butter, dipped in yogurt, chopped up in salsa, dehydrated into apple chips, diced in a coconut chicken curry, blended into squash soup, sprinkled on my salad, or cooked in this Maple Apple Compote. – Kristyn Hall MSc, R.D., Dietitian, Nutritionist and Certified Health and Wellness Coach(R), runs her own business Energize Nutrition specializing in nutrition for people 40 years and beyond. 
4. My garden is full of beets in the fall, one of my favorite veggies. While I like to boil them and eat them as a side dish with salt and pepper, there are lots of other options! Spiralize beets raw and add them to a salad. Top cooked, cooled beets with feta, salt, pepper, oil, and vinegar for a delicious salad. I also try and pickle a few jars of canned beets – perfect as a side dish in the dead of winter when fresh produce is hard to come by! – Jennifer House, R.D., owner of  First Step Nutrition her practice specializes in pediatrics, baby-led weaning, picky eating, and meal planning. 
5. Enjoy fall fruits and vegetables by saving money on them! In Calgary, we have the Good Food Box, an initiative of the Calgary Community Kitchen Program, where people can purchase fruits and vegetables at a low cost. We also have local wholesale produce stores such as Freestone Produce, or H and W Produce. – Lindsey McGregor, R.D., is a Calgary Based Dietitian who runs Calgary Dietitians. Please visit www.calgarydietitians.com for more information.