4 Delicious High Protein Post-Workout Snacks That Dietitians Love!
by Sheryl Wang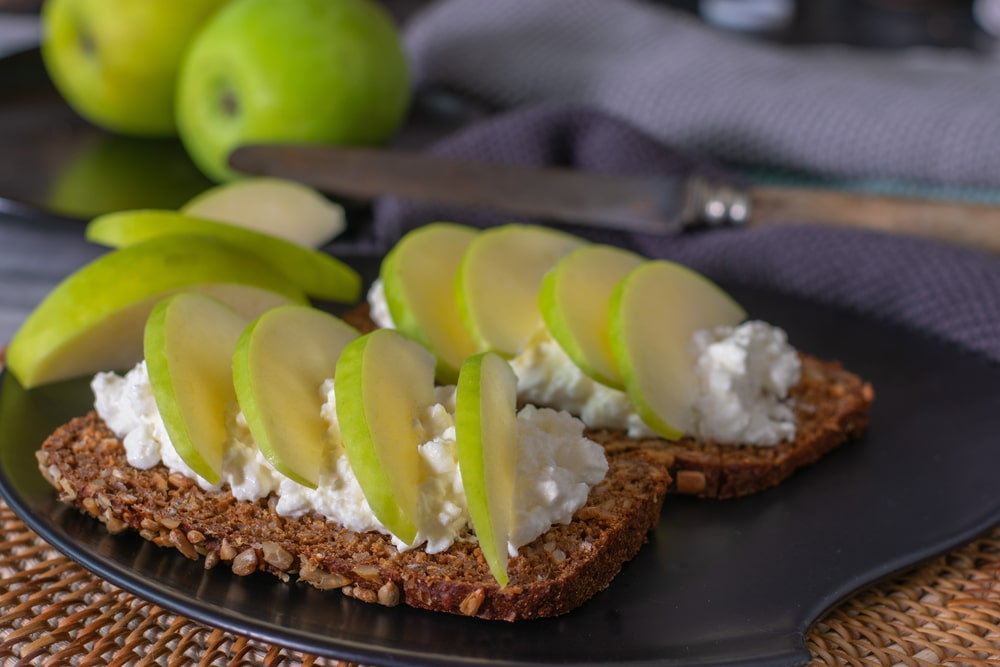 It's summertime! What better reason to sweat it out outdoors than with a bike ride, trail run, brisk walk, refreshing swim, or by yoga in the park?
After finishing a tough workout, you will definitely want to refuel and replenish what you've lost. Incorporating a  post-workout snack into your routine can help you recover faster and perform better in your next workout. Plus, who doesn't love a yummy snack after a sweat session?
But what should you have as a post-workout snack that is simple to make, easy to carry, tastes yummy—and is nutritious?
Here are some tips and tricks to creating the perfect post-workout snack and four snacks that Sports Dietitians love and recommend to their clients.
Higher Protein Builds Better Muscle (and Why It Matters)
The high protein content is the most important point that Sports Dietitians look for when choosing snacks. Recently, the American College of Sports Medicine (ACSM), Dietitians of Canada (DC), and the American Dietetic Association recommended that athletes consume 1.3-1.6g of protein per kg of body weight per day. The ACSM and DC also recommend consuming your protein within the first 30–60 min after exercise to synthesize muscle more efficiently. Thus, a high-protein snack is beneficial after a workout.
But protein isn't only important for athletes, it is useful in building and maintaining muscle mass, fluid balance, and hormone production for all individuals.
Check out the table below to get an estimate of daily protein needed based on your weight and activity level.
Weight (kg)
Weight (lbs)
Physical Activity Level
Minimal
Moderate
Intense
1.0g/kg
1.3g/kg
1.6g/kg
50
110
50
65
80
55
121
55
72
88
60
132
60
78
96
65
143
65
85
104
70
154
70
91
112
75
165
75
98
120
80
176
80
104
128
85
187
85
111
136
90
198
90
117
144
Tips to prepare a healthy post-workout snack
Here are some nutrients to focus on when choosing a post-workout snack:
High-protein
High-carb
Easy to make
"The perfect post-workout snack contains a ratio of 3:1 or 4:1 of carbohydrates to protein. In other words, protein is (less than) half the battle when it comes to post-workout recovery! Protein rebuilds our muscles, while carbohydrates keep our immune system healthy, reduce our risk of getting injured, increase our energy levels, and make us more effective at our next training session. Choosing a post-workout snack that contains both protein and carbohydrates is very important if you want a full recovery and a reduced risk of injury. It's also really important to hydrate after a workout. So if your snack is solid food, be sure to add a beverage for hydration!" – Tara Gallimore, RD
Want some ideas for a post-workout snack? Check out what Canadian Sports Dietitians have to say.
Carrie Mullin Innes, MSc, RD, IOC Dip Sports Nutr, Owner of Score Nutrition
Carrie's go-to post-workout snack after resistance training is a homemade smoothie.
"I find smoothies really 'hit the spot' and provide a good source of carbohydrates and protein for recovery after exercise. Of course, a meal would follow if I hadn't eaten a meal first in order to restore my energy stores."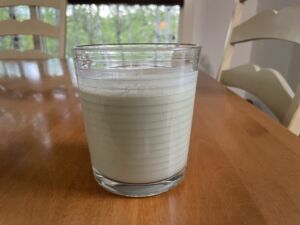 Post-workout smoothie
skim milk
half a banana
2 heaping tablespoons of vanilla Greek yogurt (or plain)
1 heaping tablespoon of peanut butter
a handful of frozen spinach
1/2 scoop of protein powder
Nicole Marchand, RD, Owner and operator of Eat Well Nova Scotia
Nicole likes to round out her workouts with some yogurt and granola. She ups the protein content by adding collagen powder and the flavour of plain yogurt by adding some maple syrup and granola for texture.
"The combination of the yogurt and collagen powder adds up to roughly 20g of protein, which is an appropriate amount for most people's post-muscle-building workouts."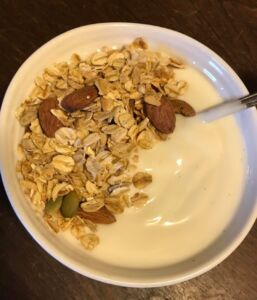 Nicole also recommends adding fruit to your snack when possible "for an anti-inflammatory and antioxidant kick which helps to reduce oxidative stress post-workout and helps cells to recover."
Post-Workout Yogurt Bowl
¾ C plain greek yogurt
1 tsp maple syrup (or another sweetener of your choice)
1 scoop of collagen powder
Handful of granola
Fruit of your choice
Lina Rahouma, RD, Independent RD working for Nourishing Balance
Lina prefers the grab-and-go option of an RX Bar "because I find that it has protein and complex carbs that help restore my energy levels after a workout."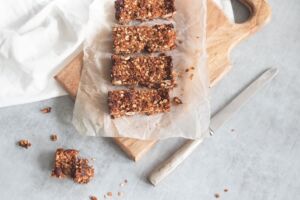 These grab-and-go options are great because they are easy to carry with you and can be packed with the protein and carbohydrates that you need after a workout.
Tara Gallimore, RD, MSc., Owner of Plantae Nutrition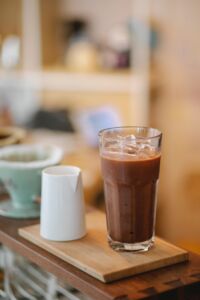 Tara's favourite post-workout snack is chocolate soy milk!
"It has the perfect ratio of carbohydrates to protein, is a source of complete protein, tastes amazing, is easy to digest, and is hydrating…I work with a lot of vegans and vegetarians, and it's perfect for people who eat plant-based or who are lactose intolerant."
Overall, a lot of thought goes into creating the perfect post-workout snack.
Lucky for you, we have numerous sports dietitians listed on the Dietitian Directory who have the skills and expertise to help you reach your fitness and sports goals. Check them out here!
About the Author: Sheryl Wang is a food and nutrition student who graduated from the University of Prince Edward Island and is pursuing a career as a Registered Dietitian.
Reviewed by: Lindsey McGregor, RD and Hannah Jackson
Images from Unsplash and Pexels
The Site is not intended to be a substitute for professional advice. Under no circumstances will we be liable for any loss or damage caused by your reliance on information obtained through the Site. You are responsible for evaluating the accuracy, completeness or usefulness of any information, opinion, advice or other content available through the Site. Please seek the advice of professionals, as appropriate, regarding the evaluation of any specific information, opinion, advice or other content. Never disregard professional advice, including medical advice, or delay in seeking it, because of something you have read on this Site.